The Mad Dash for Washington's Cash Begins With 6 Fundraisers in 48 Hours
Seekers of the White House disdain Washington, but that isn't keeping many of them from passing the hat in the nation's capital.
By and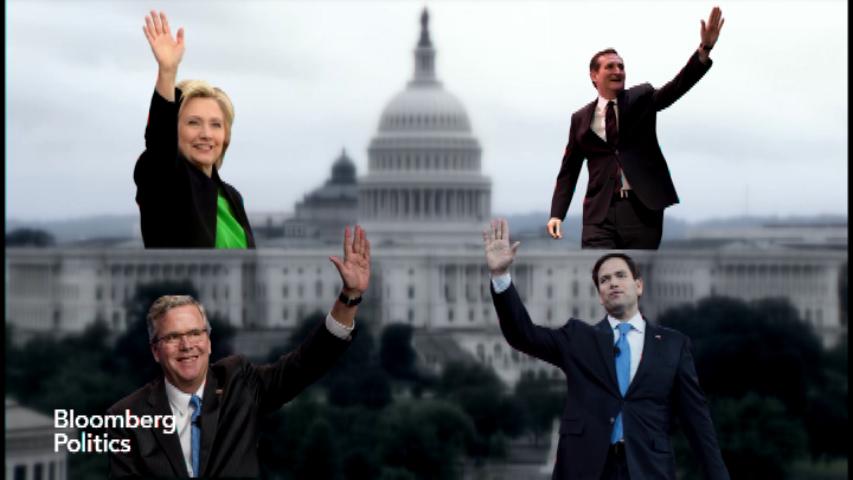 One way to gauge how badly politicians want the most powerful job in Washington is to listen for how fervently they trash the place. But that disdain isn't keeping many of them from passing the hat in the nation's capital, a phenomena that was on pointed display as four presidential contenders held six fundraisers within 48 hours last week in America's sixth-most populated metropolitan area.
These hopefuls came to collect funds from some of Washington's most elite residents, nearly all of whom have business pending before the federal government. Details came from invitations to the Republicans' events and from a Clinton aide.
Senator Ted Cruz of Texas, who in March talked during a campaign stop about how "checks from Washington, D.C., went to zero" due to his brash style of politics, was in the capital city on Wednesday picking up checks at the Washington home of Charles Cooper. Cooper is chairman of Cooper & Kirk, a firm whose lobbying clients have included include National Cable & Telecommunication Association, the trade organization for cable TV, and also once successfully represented then-Governor Jeb Bush in a lawsuit over a Florida's statute prohibiting felon voting.
Bush himself was in Washington on Thursday to collect for his super-PAC at the offices of Latham & Watkins, a global lobbying/law firm whose clients have included Shake Shack, Valspar, and investors holding defaulted Argentine government bonds.
Later the same day another Floridian, Senator Marco Rubio, aided his own presidential bid with a fundraiser at the home of Wayne Berman, a senior adviser for the Blackstone Group and former chairman of Ogilvy Government Relations, a firm that has lobbied for Chevron, Pfizer and the Poker Players Alliance.
On the Democratic side of the ledger, former Secretary of State Hillary Clinton held three fundraisers in the Washington area on Thursday. First, Clinton and her supporters gathered at the suburban Washington home of Debbie Harmon, a principal at Caravel Management, which manages investments in emerging markets, and co-founded Artemis Real Estate Partners with current Secretary of Commerce Penny Pritzker.
Clinton spent the rest of the day at the home of Frank White, an Obama bundler and founder of private-equity firm focused on energy and infrastructure, and then at the home of Elizabeth Frawley Bagley, the former U.S. ambassador to Portugal.
In 2012, Republican presidential nominee Mitt Romney raised more than $15 million from the Washington area. For his part, the Democratic nominee, President Barack Obama, raised $27 million.
—Jennifer Epstein contributed to this report.