The Definitive H&H Ben Carson Scouting Report
The retired neurosurgeon enters the race for the Republican presidential nomination.
By and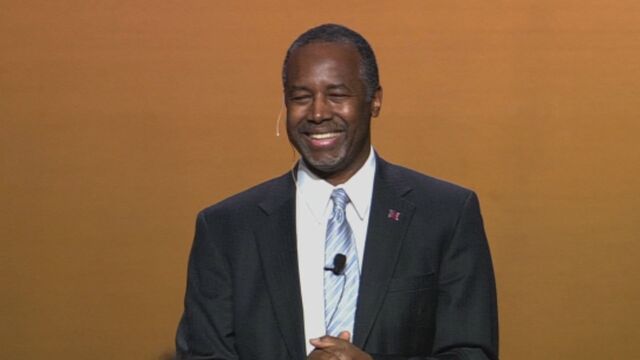 What he's got: Passionate following from his Fox News hits, writing, and public appearances; a compelling stump speech and biography;  more freedom than other Republicans to speak about race and political correctness; a demeanor that soothes and impresses; an en vogue non-politician resume.
What he lacks: Executive, legislative, and/or political experience; national-security credentials; consistent ability to avoid gaffes, stick to a script, and stay on message; a clear and plausible early-state strategy.
Biggest question mark: Can he seize a moment to vault himself into the top tier, convincing a wide swath of Republican voters that he's more credible candidate than intriguing curiosity?
Message: Unite, heal, thrive.
Signature issues: Health care; welfare reform; public service; taking politics away from the politicians.
Core constituencies:  Fervent backers with a personal or meta connection to him; fans of his famously aggressive attacks on Obamacare and its namesake; Tea Partiers.

Fundraising mojo: Success of draft committee might foreshadow possibilities. Has the potential to benefit more from online and super-PAC support than traditional bundling, but his money floor and ceiling are unclear.
Spouse and family:  Has three sons with his wife, Candy, whom he met while they were attending Yale. Son of inspirational single mother who was one of 24 kids—and forced Carson and his brother do weekly book reports to force them to read more.
Perceived electability as Republican nominee: Support from grassroots far exceeds respect from GOP establishment, which seriously doubts he will ever be the party's standard-bearer, let alone be capable of defeating Hillary Clinton.
National-security credentials: None—and often seems in over his head when asked even moderately tough questions on the topic.
Television skills: Strong performer, complete with clever dog whistles to the right, when he is in his comfort zone; awkward and almost odd when pressed on unexpected subjects.
Social media/online chops: Has a respectable Twitter following (325K) to whom he sends a mix of current events, retweets of positive press, fan support, and personal opinions. Also has strong #TBT game. 
Media coverage:  Benefits from the prominent play his career as a world-class surgeon receives in many stories. Hasn't faced much scrutiny so far, which is sure to change if he enjoys campaign trail success.
Polling strength: Consistently in the middle of the pack in a crowded field both nationally and in most key states, with room to grow as he gets better known.
The Big Mo: Has taken himself out of the game of late by skipping most cattle calls and generally offering only text reaction to news or controversies of the day.
Fire in the belly: His low-key style and limited public schedule don't inspire confidence that he is willing to walk across hot coals and broken glass to get to the White House.
The hang test: His unique manner can be charming but also makes him hard to identify with.
Challenges party orthodoxy: On virtually nothing—holds strong to basic tenets of conservative ideological and policy positions.
Best moment of 2016 cycle so far: Turned an apology from the Southern Poverty Law Center (which erred in adding him to their "extremist" list) into a winning refrain at CPAC.
Worst moment of 2016 cycle so far: Had to apologize for saying that some prisoners become gay while incarcerated.
Best Bloomberg Politics moment: Took an unambiguous, science-based, medically sound position on childhood vaccinations, while some of his rivals waffled.