business
Police Kill Two Gunmen Outside Texas Muhammad Cartoon Event
Ian Wishart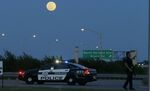 Police in Texas killed two men who opened fire on a security officer outside a contest to draw cartoons of the Prophet Muhammad, the Associated Press reported.
The men drove to the front of the building hosting the event in the Dallas suburb of Garland on Sunday and started shooting, the City of Garland said in a statement.
"Both males were armed and began shooting at a Garland ISD security officer," the city authority said in the statement published on its Facebook page. "Garland Police officers engaged the gunmen, who were both shot and killed."
It was not immediately clear whether the shooting was connected to the event inside the Curtis Culwell Center, Garland police spokesman Joe Harn said at a press conference late Sunday, according to AP.
Depictions of Muhammad are considered offensive by many followers of Islam. Several acts of terrorism around the world have targeted people who have drawn or published cartoons of the prophet.
Authorities searched the gunmen's vehicle for explosives, according to AP.
"Because of the situation of what was going on today and the history of what we've been told has happened at other events like this," the police considered their car to be "possibly containing a bomb," AP cited Harn as saying.
Gunmen shot dead 12 people at the offices of French satirical magazine Charlie Hebdo in Paris in January after it carried cartoons of Muhammad. The following month a gunman opened fire at a free-speech event in Copenhagen attended by a Swedish cartoonist who had depicted the prophet.
The Texas event was hosted by the New York-based American Freedom Defense Initiative. It was awarding $10,000 for the best cartoon of Muhammad, AP reported.
Before it's here, it's on the Bloomberg Terminal.
LEARN MORE