Periscope Is On the Clock to Fix Its Piracy Problem
The Mayweather-Pacquiao fight could usher in a moment of truth for Twitter's livestreaming app
By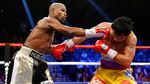 On Saturday night, boxing fans proved that live-streaming apps such as Periscope could be used for widespread piracy of live sporting events. The big question now is whether Twitter can help the small team running the app prevent it from happening again. 
For those more interested in the media industry than pugilism, Periscope's role in showing the Mayweather-Pacquiao fight was the biggest story to come out of the "Fight of the Century." Loads of illicit streams showed up on the app, and while Periscope worked to shut them down, it couldn't do it quickly enough. Periscope, which was launched in late March with much fanfare before fading somewhat, rose to its highest ranking in Apple's app store since its first week. Tech writers declared it the future. Twitter's chief executive, Dick Costolo, took to Twitter to brag about Periscope's big night:
Saturday's fight might not be a great litmus test of Periscope's lasting impact on the sports media landscape, given that it was a much-hyped, once-in-a-lifetime matchup people wanted to watch; there was a lack of legal online streaming options; and cable outlets didn't appear to have a great night. It has yet to be seen whether watching relatively low-quality and inconsistent feed of sporting events is something that many fans want to do. 
What the episode did show is that piracy is going to be a huge problem for Periscope. Many digital media startups go through a stage in which they run into trouble over copyright violations, and not all of them survive it. Just last week, music streaming service Grooveshark succumbed to legal action caused by its practice of letting users upload copyright protected content. The fact that Periscope isn't some scruffy startup but a major project of a publicly traded company is going to erase any patience media companies have for slip-ups. 
Periscope issued a statement Monday saying it had received 66 reports from rights holders and took action on 30 of them. The rest were already over or unavailable, it said. HBO and Showtime declined to comment on how satisfied they were with Twitters's actions. 
YouTube faced a similar quandary as a young company. In 2007, Viacom sued it for $1 billion over copyright infringement. Viacom later decided not to pursue damages, after YouTube developed a system called Content ID that automatically searches YouTube and identifies copyright-protected content that has been uploaded without the rights holders' permission. The suit was settled last year. People who follow the online video industry say that developing a similar system is a top priority for Facebook before it begins playing preroll advertisements on videos uploaded by users.
The technical task Periscope would face is more difficult than the one YouTube did. Content ID checks new videos against a database of existing protected works provided by copyright holders. In a live sporting event, the original content is being created at the same time as the illicit streams. But it is possible, says David Gibbons, vice president of marketing for Ustream, another streaming video company. Ustream has developed automated tools that watch for sudden spikes in traffic on certain streams, as well as for the specific content. "It's not a trivial task," says Gibbons. "It's something that everyone who has a media streaming platform has to build at some point."
Small startups generally don't build tools such as this at first, because they're just trying to get the basic products going. But Periscope has Twitter's resources backing it up, and it will likely have to use them to prevent a wider fight with companies over what people are watching for free on their shiny new app.