Paul on Urban Protests: 'We Need to Understand Where It's Coming From'
The senator takes another stab at explaining the civil unrest.
By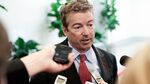 He'd taken heat for a dark joke about the civil unrest in Baltimore. He'd generally stayed quiet on the topic, to the surprise of civil libertarians. On Monday, finally, Kentucky Senator Rand Paul used a campaign rally in Michigan to expand his remarks. 
"You wonder why people are unhappy in our cities?" he asked an audience in Grand Rapids. "Some aren't doing it right. Some are protesting violently, and there's no excuse for violence, but the thing is, there is an unhappiness. Those of us who don't live in poverty, we need to understand where it's coming from." 
Paul's plea for understanding was reminiscent of what he'd said for years, before a radio interview with Laura Ingraham led to accusations of glibness. "I came through the train on Baltimore last night," Paul had said. "I'm glad the train didn't stop." By week's end, campaign advisers were assuring reporters and allies that the senator did not mean to minimize what had happened to Freddie Gray, or why citizens had broken curfews to protest.
The old Paul made a triumphant, libertarian return to Grand Rapids. Most of his remarks focused on civil and police issues, from urban unrest to the National Security Agency to civil forfeiture. "I want us to be the party of the entire Bill of Rights," Paul said. "That means the Fifth Amendment and Sixth Amendment as well." He invoked the 1996 story of Richard Jewell, a security guard whose reputation was shredded–on false pretenses–after he located bombs aimed at the 1996 Olympic Games in Atlanta. 
"Think if Richard Jewell had been a black man in the South in the 1920s," said Paul. "White kids do drugs as much as black kids do them, but everybody in prison is black or brown." 
Paul criticized his own Republican Party, which has not carried Michigan at the presidential level since 1988, for failing to focus on issues that might win over disadvantaged voters. As he's done in other recent speeches, Paul suggested that the crowd read a New Yorker story about Kalief Browder, a black man who spent three years in New York's Rikers Island jail before getting a trial. "I think we win again as a party when we care about Kalief Browder as much as we care about the Second Amendment," said Paul.
And Paul couldn't resist continuing his argument with Arizona Senator John McCain and South Carolina Senator Lindsey Graham, a debate about terrorism and the law that has spilled from the Capitol to primary states to the airwaves of cable TV. Standing near his host, Representative Justin Amash, Paul re-lived the times McCain and Graham had clashed with him over the rights of accused terrorists. 
"There was some old guy, can't remember his name, who called us 'wacko birds,'" said Paul "The guy that calls us 'wacko birds' has a sidekick that's always by his side." 
Amash, a libertarian-minded Republican who'd been elected with support from Paul's network, used the occasion to officially endorse the senator's White House bid. 
"Rand Paul is a once-in-a-generation sort of candidate," said Amash. "Over the past several years, we've tried the other way. We've tried to be the party of candidates who didn't stand for enough. That led to losses in the last two presidential elections."