On Spending, Carly Fiorina Says Zero Is a Good Place to Start
The Republican presidential hopeful wants to force every agency to justify its spending by starting with a budget of zero and working up from there.
By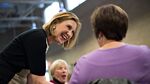 Republican Carly Fiorina isn't just the only woman in the Republican presidential field. She's also the only candidate who once ran Hewlett-Packard, which was once the world's second-biggest computer company. And while her tenure at HP didn't end well (she was fired), she's drawing on her business experience by making a budget-setting tool into one of her key campaign issues.