Obama Said to Pick General Dunford as Joint Chiefs Chairman
Justin Sink and David Lerman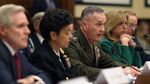 President Barack Obama plans to nominate Marine General Joseph Dunford as the next chairman of the Joint Chiefs of Staff, an administration official said.
Dunford would replace Army General Martin Dempsey, 63, who is completing his second two-year term as the country's top military officer. Obama is picking Air Force General Paul Selva, head of the military's transportation command, as vice chairman.
In selecting Dunford, 59, Obama is turning to an experienced commander of ground forces as the administration is trying to combat Islamic State forces in Iraq and Syria while preparing for an orderly withdrawal from Afghanistan.
The nomination is set to be made public Tuesday, according to the official, who asked for anonymity before the formal announcement.
Dunford currently serves as commandant of the Marine Corps. Before taking that post in October, he served as the top commander of U.S. and allied troops in Afghanistan, where he warned against a hasty withdrawal of forces.
Dunford served as an infantry officer at all levels of the Marine Corps. He commanded the 5th Marine Regiment during the Iraq war.
"He may be the best choice for the job in my quarter-century in D.C., given his smarts, creativity, pragmatism, calm and cool, and experience," Michael O'Hanlon, a military analyst at the Brookings Institution in Washington, said in an e-mailed statement.
Dunford, whose nomination requires Senate confirmation, won praise Monday from the top Democrat on the Senate Armed Services Committee.
"General Dunford has the experience and vision to lead the Joint Chiefs and help shape our national security strategy at a time of enormous global challenges," Senator Jack Reed of Rhode Island said in an e-mailed statement.
Dunford holds master's degrees in government from Georgetown University in Washington and in international relations from the Fletcher School of Law and Diplomacy at Tufts University in Massachusetts.
Dempsey, the 18th Joint Chiefs chairman, has served in the post since 2011, guiding the military's ground troops out of Iraq and then organizing airstrikes in Iraq and Syria three years later to confront the rise of Islamic State fighters.