Decoding Scott Walker's Puzzling Star Wars Reference
The force be with... who, again?
By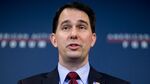 May 4 is celebrated, on the Internet, as "Star Wars Day." This is because the auxiliary verb "may" is the same as the fifth month of the year, and the word "fourth" sounds sort of like "force"—as in, "May the force be with you."
Wisconsin Governor Scott Walker, alone among likely presidential candidates, celebrated the holiday with a tweet.
The only problem with this pitch to a sizable fanbase (and growing religion) is that it is incredibly hard to parse. The reference is to a scene in The Empire Strikes Back, in which the disembodied voice of Obi Wan Kenobi frets that Luke Skywalker was the "last hope" against the titular tyranny. Yoda's insistence that "there is another" is usually seen as a teaser reference to the fact that (spoiler) Leia Organa was Skywalker's twin sister.
Taken literally, Walker's quote (credited to "Team Walker," not the governor) was a reference to... what? Among the possibilities:
Princess Leia
This was the theory preferred by NARAL, one of the groups that spent big—in vain—to defeat Walker in his 2014 re-election.
Ronald Reagan
This makes more sense, because Reagan is the sun, moon, and stars of the Walker cosmos. "Walker has called Reagan the best president for foreign policy in his lifetime and frequently references him in speeches throughout the country," notes reporter Jessie Opoien. "He and his wife, Tonette, were even married on Reagan's birthday. The narrative of Walker's campaign is that a country that was once rescued by Ronald Reagan's leadership has been waiting for a pupil to recreate—a pupil like Scott Walker.
Paul Ryan
A less generous theory, but one just as rooted in Walker's mythos. He is an unabashed fan of the Janesville, Wisconsin congressman-wonk, and did everything he could to elect him to the vice presidency. "I love Paul Ryan," Walker said in 2014. "I've said many times I'd be the President of the Paul Ryan fan club." Walker's 2014 ramp-up really started when Ryan officially passed on his own 2016 bid.
A question to Walker's PAC, which could have ended all of this speculation, went unanswered.