Decoding Scott Walker's Puzzling Star Wars Reference
The force be with... who, again?
By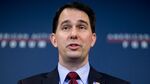 May 4 is celebrated, on the Internet, as "Star Wars Day." This is because the auxiliary verb "may" is the same as the fifth month of the year, and the word "fourth" sounds sort of like "force"—as in, "May the force be with you."