Cameron and Miliband Seen Adding to Woes of Debut Homebuyers
Patrick Gower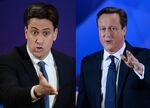 David Cameron's and Ed Miliband's pledges aimed at making U.K. homes more affordable have one thing in common: They're likely to do the opposite.
From the Labour Party leader's promise to eliminate the stamp-duty tax for first-time buyers to the Conservative prime minister's plan to allow low-income families to buy their homes at a discount, the policies threaten to push up values that are already climbing faster than wages.
The plans "are focused on boosting housing demand rather than supply, which we all know just increases house prices," said Matthew Pointon, a property economist at Capital Economics Ltd. "That doesn't benefit the first-time buyers they're meant to be helping."
Housing has become the fourth-most important issue to voters, after the economy, immigration and health, according to a YouGov poll. That's its highest ranking ever. For the first-time buyers courted by Cameron and Miliband, a home typically costs five times their earnings. In London, it's a multiple of nine.
"There's a real disappointment that no party has demonstrated a clear understanding of the problems facing the housing market," said Adam Challis, head of residential research at broker JLL. "Politicians are going for quick wins and play politics with something that needs more fundamental long-term thinking."
Financing Help
First-time homebuyers in Britain were hit hard when the financial crisis prompted banks to tighten mortgage lending and increase down-payment requirements. The government's Help to Buy lending-assistance program, announced in January 2013 and expanded since, was the first of many housing policies touted as aid for those buyers.
The policy was called "moronic" at the time by Societe Generale SA global strategist Albert Edwards, who said it would encourage Britons to add to their already high debt levels. Home prices have climbed almost 15 percent since the plan was introduced.
Chancellor of the Exchequer George Osborne in December announced a cut in transaction taxes on most homes and levied higher fees on the wealthy, saying 98 percent of property buyers would pay less. The Office for Budget Responsibility, an independent organization that overseas public finances, concluded that such cuts would result in price increases that exceed the savings as sellers demand more.
Channeling Thatcher
In April, less than a month before the vote, Cameron promised to broaden one of former Conservative Prime Minister Margaret Thatcher's most popular policies by offering 1.3 million poorer families the chance to buy their rented homes from nonprofit housing associations.
The policy "not only removes a source of affordable rented houses for some people, but it does nothing to add to the housing supply," said Jonathan Portes, director of the National Institute of Economic and Social Research.
The opposition's plans don't fare better. A promise by Labour's Miliband to cut stamp duty for first-time buyers will make matters worse by inflating house prices, the Royal Institution of Chartered Surveyors said on April 27.
Britain's competing parties have promised significant increases in homebuilding. Labour has pledged to build 200,000 homes a year by 2020. The Liberal Democrats have gone further, promising 300,000. The Conservatives have pledged to build 200,000 "starter homes" for first-time buyers under the age of 40.
'Skeptical' Public
The current pace is about 130,000 annually and fewer than one in 10 homebuilders say it's possible to construct more than 200,000 a year, according to a survey by Knight Frank.
"Suddenly, we have these manifestos saying they'll build all these homes when there's no detail about how that's going to happen," said Richard Donnell, research director at property assessor Hometrack Ltd. "There's an element of skepticism among the great British public about these proposals from a common-sense perspective."
For now, debut buyers continue to drop off despite the Help to Buy program and record-low mortgage rates. About 61,000 of them bought homes in the first quarter, the lowest level in two years.
"London risks becoming like other European cities, heavily polarized between the very poor and the very rich," Tessa Jowell, a former Labour lawmaker and bookmakers' favorite to replace Conservative Mayor Boris Johnson when he steps down in 2016, said in an interview. "People in between are unable to afford to live here."
Less than a fifth of the 249,858 properties listed on the property website Zoopla are affordable to families earning the median income of 30,748 pounds, according to analysis by housing charity Shelter. Only 43 of those homes are in London.
The "headlines following their announcements are great and they probably know it's more complicated than this, but at the end of the day there's an election to be won, isn't there?" said Donnell. Winning "is all about sentiment and perception."