Ex-Christie Aide Seeks Help for Legal Bills
The political operative who wrote New Jersey's new state slogan, "Time for some traffic problems in Fort Lee," is ready to be rewarded for her work.
By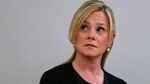 This is an excerpt from Bloomberg's daily Opening Line column.
The political operative who wrote New Jersey's new state slogan, "Time for some traffic problems in Fort Lee," is ready to be rewarded for her work.
"This fund will aid in ensuring truth and justice prevails," reads the appeal for money by Bridget Anne Kelly at the website of her new legal defense fund, which takes credit cards—"$25 minimum donation"—but warns that refunds are out of the question.
Kelly, former deputy chief of staff to Governor Chris Christie, joined the New Jersey Indicted Public Officials Hall of Infamy on Friday along with another former member of Christie's inner circle, Bill Baroni. 
They are, naturally, entitled to a presumption of innocence. Whether that presumption makes it less presumptuous to ask for money on the day you're charged is a different question, especially within the burgeoning "crowdfunding" industry, which seems to know few bounds of taste or discretion.
Baltimore's police union turned to GoFundMe to help support the six officers charged in the death of Freddie Gray. Their effort raised $890 in 41 minutes before being taken down by GoFundMe, which said it can't be used to help those charged with "serious violations of the law." By yesterday the union instead showed a link on its website for a PayPal account for its "Officer Distress Fund."
You can still use GoFundMe to send money to help the New Wealth Advisors Club of Riverside, California, resist a civil lawsuit accusing it of using high-pressure tactics to get people to pay for courses in flipping and short-selling real estate. That defense fund has raised $7,760 toward its $100,000 goal in two months.
Or you can donate to Matthew Opaliski, a former state Senate candidate in Delaware charged by federal prosecutors with illegally dealing in firearms. Thirty-three people have given $2,052 in two months toward the legal defense campaign on his behalf.
Last month, GoFundMe shut down a fundraising effort for Michael Slager, the South Carolina police officer who mistook an unarmed man running away from him for an armed man running toward him. His supporters took the campaign to another site, Indiegogo, which said it was OK, then not OK. Indiegogo also took down a page seeking $25,000 for Robert Bates, the "I shot him, I'm sorry" volunteer officer from Oklahoma.
Samaritan's Purse, the international-relief charity run by Franklin Graham, doesn't list legal defense funds among its many good works. It does raise money "to help persecuted Christians in the U.S." withstand "legal burdens inflicted by courts or government-imposed orthodoxy," including the florist, the baker and the pizza-maker who have turned down (or said they would turn down) work at same-sex weddings.
For the record, about three out of every four Americans are Christian.
Kelly, who poses with her four children in a photo on her legal defense fund website, hasn't denied writing the "time for some problems" e-mail. She didn't directly address it at her press conference on Friday.
She did tell reporters that "some of my off-handed attempts at sarcasm and humor were not as witty as they were intended to be." So much for that new job at "Saturday Night Live."