Ghani Says Afghan Future Lies in Trade, Not Foreign Aid
David J. Lynch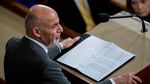 Even as Afghan security forces battle Taliban insurgents and cross-border criminal networks, President Ashraf Ghani said he plans to devote at least 30 percent of his time to his country's battered economy.
"The fundamental thing that's going to transform this country is not aid; it's trade and investment," Ghani told a small group of reporters on Monday in an interview at the presidential palace in Kabul.
Saying that the country's location astride trade routes linking Asia and the Middle East makes it a central player, Ghani said, "If there is not a stable Afghanistan, Asia will not be a great economy."
He struck a sober but optimistic tone in the interview, acknowledging challenges that include widespread corruption and the emergence of elements of Islamic State.
"It's going to be a difficult year, but at the end of it I think we're going to come out much stronger," Ghani said.
Ghani said his security forces will weather the loss of most U.S. combat support and defeat a Taliban insurgency that's inflicting record casualties.
He spoke hours after a Taliban suicide bomber blew himself up in an attack on a bus carrying government workers in the capital, killing one person and wounding 13. Elsewhere, Taliban attacks killed 16 police officers on Sunday at checkpoints in northeastern Badakhshan province.
'Massive Misallocation'
To battle corruption, Ghani said he heads a panel that reviews every contract awarded. So far, the scrutiny has uncovered "massive misallocation of resources," he said.
A former World Bank official, Ghani said he personally reviewed the audit reports from every Afghan bank to avoid a repeat of the 2010 crisis at Kabul Bank, which collapsed after losing an estimated $850 million, most of it from foreign donors.
Economic growth has slowed to an estimated 1.5 percent this year from an annual average of 9.4 percent in this decade to 2012, according to the World Bank. Foreign direct investment is almost invisible.
Nearly 40 years of constant conflict have left Afghanistan's human and financial capital woefully undeveloped. Total outstanding bank loans total less than $1 billion, according to the World Bank.
The amount of land under cultivation is roughly 60 percent of the 1978 level, and no new dam has been constructed in 14 years, the president said.
U.S. Aid
The country is kept afloat by massive foreign aid. The U.S. this year will spend $4.1 billion on Afghanistan's security forces, about 10 times the Afghan contribution. The country has potential mineral wealth valued at $1 trillion to $3 trillion that lies fallow, lacking the financial capital and infrastructure needed to develop it.
"The country's extraordinarily rich," Ghani said. "The people are miserably poor."
Since taking office last year, Ghani has invited regional powers China and India to help mine Afghanistan's natural resources. The nation will be the top producer of copper and iron ore in the next 15 years and among the biggest for gold, he said in New Delhi last week.
Analysts aren't yet convinced.
'Virtually Impossible'
"It's virtually impossible for Afghanistan to become top producers of copper, iron ore or any other mineral ore in that time frame," Gunjan Aggarwal, an analyst at commodities consulting firm CRU Group, said by phone from Mumbai. Security concerns push investors to seek sovereign guarantees, which governments would be reluctant to give, he said.
After more than 13 years, the U.S. combat role in Afghanistan officially ended on December 31. Afghan forces are now responsible for flying challenging air missions that the U.S. once carried out, including supporting ground troops, evacuating dead and wounded soldiers from the battlefield and collecting intelligence.
Ghani applauded President Barack Obama's decision to keep 9,800 U.S. soldiers in his country through the end of this year. Most are helping train Afghan soldiers and security officials.
Ghani said Afghanistan's nascent Air Force requires much additional help, and he parried questions about seeking more extensive U.S. assistance after the training program winds down at the end of next year.
"Let's see how 2015 ends before we open up the question of 2016," he said.
Taliban Talks
Ghani declined to comment on prospects for peace with the Taliban as representatives of the two sides attended a conference in Doha aimed at paving the way for eventual talks.
Ghani, who has reached out to the Taliban since taking office, said that "strategic patience" would be needed to reach a "sustainable and enduring" peace.
Fighting often intensifies, reaching new levels of violence, just before a conflict is exhausted, he said. Half of peace agreements worldwide collapse within five years because "they are not properly prepared," he added.
Rising casualties have yet to trigger domestic unrest in a nation that has grown accustomed to cycles of bloodshed.
"The population is understanding," the president said, "but the key to this is to reduce the casualties and to be able to reach sustainable peace."
Ghani took office last year after a protracted political transition that saw the formation of a national unity government, including the candidate he defeated, former foreign minister Abdullah Abdullah.
Abdullah is now the country's chief executive, a new post created to facilitate the unusual partnership.
U.S. officials have welcomed the new government, describing Ghani's frequent statements of thanks for American assistance as a welcome shift from his mercurial predecessor, Hamid Karzai.
"For me, it's been night and day, a night-and-day difference working with the national unity government," said Army General John Campbell, commander of U.S. and NATO forces.