Martin O'Malley: 'Wouldn't Think of Announcing' 2016 Campaign Anywhere but Baltimore
The former governor of Maryland continued to defend his record on policing policies from his time as Baltimore mayor.
By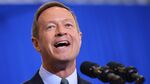 No Democrat is having a harder time moving away from the tough-on-crime 90s than former Maryland Governor Martin O'Malley, whose potential presidential campaign has been plagued in the last week by questions over his policing policies as mayor of Baltimore. On Sunday, O'Malley continued to defend his record and said Baltimore would be the setting of his presidential campaign announcement if he decides to run.