Baltimore Mayor Says 'Space to Destroy' Was Taken Out of Context
Mayor Stephanie Rawlings-Blake says the city is working to identify suspected looters.
By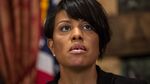 It was the phrase that launched a thousand head scratches. Baltimore Mayor Stephanie Rawlings-Blake reiterated Sunday that she and her administration don't condone the rioting that has destroyed and damaged several businesses in the city, after saying last month that rioters had been given "space to destroy."
"I certainly think that it was taken out of context," Rawlings-Blake said Sunday on NBC's Meet the Press. Rawlings added that her family has deep Baltimore roots, and she would never condone the riots that followed the death of Baltimore resident Freddie Gray while in police custody. "We fought to get those stores in our communities," she said.
Rawlings-Blake used the phrase in a press conference last weekend while describing the balance between policing and giving peaceful protesters the space to share their message. "It's a very delicate balancing act," she said. "Because while we tried to make sure that they were protected from the cars and other things that were going on, we also gave those who wished to destroy space to do that as well." Instead, as Bloomberg noted last week, it seemed that she was admitting that the city had allowed to the riots to occur, a theory the city quickly tried to dispel. 
On Sunday, Rawlings-Blake said that she used the "wrong phrase" to describe the way rioters took advantage of the situation. "I certainly used the wrong phrase to talk about what was clear, that there were people who took advantage of the peaceful demonstrators' First Amendment rights and they used it to destroy our city," she said, adding that the city is working to identify the looters using surveillance footage.
Rawlings-Blake also pushed back on a claim from at least one protestor that the rioting and destruction of the CVS helped lead to charges against the six officers involved in Gray's death. "What happened with the rioting and the destruction of CVS was senseless," she said. "What it is doing is destroying neighborhoods."
The mayor also announced on Sunday that she was lifting the 10 p.m. to 5 a.m. curfew that had been in place for Baltimore residents for the past six days. 
"Effective immediately, I have rescinded my order instituting a city-wide curfew," she said in a statement. "My goal has always been to not have the curfew in place a single day longer than was necessary."