Treasuries Post Their Worst Weekly Decline in Almost Two Months
Susanne Walker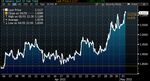 European debt markets took a holiday and still dragged Treasuries lower.
The worst week for U.S. 10-year notes in almost two months got even bleaker as a rout in European bonds continued to diminish investor appetite for relatively higher U.S. yields. The notes also extended an April decline after a report showed U.S. consumer confidence rose last month.
"This week was a bit of trying to move away from the relative-value trade, saying the U.S. is cheaper than Europe, and moving toward the fundamental-value trade," said Tyler Tucci, a U.S. government-bond strategist in Stamford, Connecticut, at Royal Bank of Scotland Plc's RBS Securities unit, one of 22 primary dealers that trade with the Federal Reserve. "Given the economic fundamentals, what is the appropriate yield?"
Treasury 10-year yields rose eight basis points, or 0.08 percentage point, to 2.11 percent as of 5 p.m. New York time. It touched 2.12 percent, the highest since March 13, based on Bloomberg Bond Trader data. The benchmark 2 percent note due in February 2025 fell 23/32, or $7.19 per $1,000 face amount, to 99.
European government-bond markets were closed Friday for the May Day holiday.
Weekly Jump
Ten-year yields climbed 20 basis points this week, the most since the week ending March 6, and are up from 1.92 percent at the start of April.
U.S. debt extended losses after the University of Michigan said Friday that its final consumer-confidence index for April increased to 95.9 from 93 in March. The median projection in a Bloomberg survey of economists was for 96.
That followed a series of weak first-quarter economic readings that the Fed this week blamed on "transitory" factors including brutal winter weather in much of the U.S. Fed Chair Janet Yellen and her colleagues reiterated in a statement on April 29 after a two-day meeting that they believe growth will pick up to a "moderate pace."
"These past couple of weeks have been really difficult -- attaching these reports to any price action has been nearly impossible," said Michael Lorizio, senior trader with Manulife Asset Management in Boston. "We're seeing a continuation of the trend that's existed all week."
Euro-area debt started selling off early in the week and reached a peak on April 29, when 55 billion euros ($62 billion) was wiped off the value of the region's government bonds on the day.
The extra yield that investors get for holding Treasury 10-year notes instead of similar-maturity German bunds narrowed to 167 basis points on Thursday, the least on a closing basis since April 3.
"A lot of this move is momentum-driven and people are going to see how far they can push it," said Stanley Sun, an interest-rate strategist at primary dealer Nomura Holdings Inc. "There are momentum players who will jump on this train regardless of the fundamental picture."