Car Reviews
The Mercedes-Benz SL400 Is a Complete Summer Roadster, Minus the Trunk
No need to splurge for an AMG coupe, which could cost at least $100,000 more
By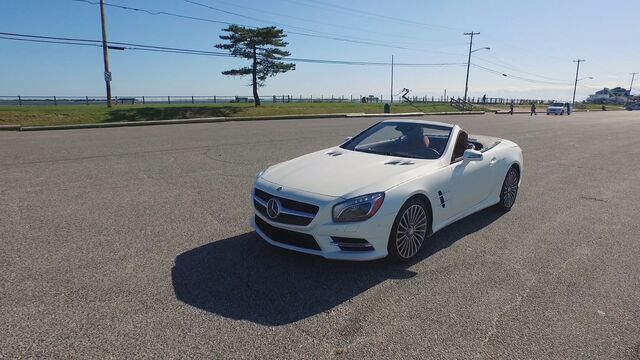 No one buys a two-seat roadster for the roominess.
You'll remember this when you get behind the wheel of Mercedes-Benz's 2015 SL400. There's barely room to put anything, from a water bottle to (heaven forbid) luggage. And believe me, plenty of people (friends, enemies, lovers, garage attendants—you get the picture) are going to point that out to you. 
Thoroughbreds and mules inhabit separate worlds. A racehorse does not a pack animal make. So if you buy this car, do it for the right reasons. Do it for the way it hugs you on a speeding turn. In that embrace, there shouldn't be room for loose baggage.  

This is an opportunity to liberate yourself from said baggage. 
Oh, and yes, this is a racehorse: It has 329 horsepower on a turbocharged V6 engine with a sinuous frame and the wide vented nostrils of an animal used to sucking breath. Zero to 60 miles per hour is 5.1 seconds, about the same as the Jaguar F-Type. This means it's plenty fast—the engine propels it smoothly and firmly with the intensity of an arrow. But it's not as fast as, say, the Porsche 911, BMW M3, or Audi R8 Spyder. 
Pretty Picture 
The SL400 is a 300-pounds-lighter update on its predecessor, the SL350. It's a major step up from the SLK-Class Roadster and, at $84,000, the "affordable" alternative to the AMG variants of the same model. In coupe form, it comes closest to the $120,000 Mercedes S-Class Coupe, although it's considerably more affordable and arguably more aesthetically alluring than its elegant sibling.
But don't buy the SL400 if you want manic speed. Buy the $148,050 V8 SL63AMG or the $215,250 V12 SL65 AMG instead. Those bigger, much more powerful engines drive like stallions on speed. They'll sear themselves into your memory with the intensity of a firebrand.

As for the right reasons to buy it? Buy this if you want something capable of setting a lovely scene inside and out, of creating a special occasion out of the most mundane drive, and giving all it has when you ask it to move. Few contenders in this category can run with the SL400.
Unmistakable Heritage
The first thing I noticed about the SL400 is its long hood. You'll notice it, too. When we talk about cars as phallic devices, this is what we're talking about. Everything else about the design of this car stems from that long nose—the sidelines sucked up along the body like the ribcage on a racer, the massive front fenders and grills, the minute rear end.
Mercedes has slammed it with a massive trident logo on the front and SL badging throughout. No one will mistake this for anything minor.

The effect is strongest when the hardtop roof is down because the body of the car forms one straight line forward, like a solid marble slab. But I didn't mind how the car looks when the top is up. From a distance, in this state, the SL400 could be taken for an expensive coupe. Especially with those 19-inch alloy rims.
Worth The Expense
Inside, Mercedes has well defended its reputation as a purveyor of automotive luxury and progressive technology. Primary among them is the retractable power hardtop (deployment time: 20 seconds) made from glass panels and a sliding sunshade. You can darken the roof's glass to opaque noir with the touch of a button.
When you drive this as a coupe, it's quiet and air-tight—worlds away from what hardtop convertibles offered even a decade ago.
In fact, lots of things here do much to make you forget you're in a convertible: Specially treated sun-resistant leather upholstery, the "neck scarf" function that blows warm air on your heck from the middle of the headrest, the wind screen across the two seats that—with the windows up—reduced the wind enough for me to retain my hat without much effort.

With the dual climate-control systems, contoured massaging seats, and Bang & Olufsen premium sound system, I felt I could have just as easily been in Warner Brothers' private screening room.
I do have one or two serious quibbles with the SL400. I'm not kidding when I say that it has no storage space. In addition to having ONLY two seats, the SL400's trunk—the trunk!—will barely fit the minimal YSL tote bag I take to work every day. The two cup-holders in the center console are pushed so far back, behind where your elbow naturally falls, that they feel awkward to access. The side bays along the interior of the doors won't even fit an average bottle of water. And you may get some flack from your "car guy" "buddies" for going in for a "lesser" SL rather than an AMG. By lesser, I mean that smaller, more efficient V6 engine, rather than a roaring V12 like the one in the SL65 AMG. Just tell them that if they want to drop the extra 130K on that bigger machine, be your guest.  
A Winning Character 
Where this car shows its heart—by which I mean its desire to please—is in the things it does for you without your having to ask. The headlamps pop on the moment you enter a tunnel or shaded alley, the seats actively hug your hips and kidneys when you turn, and the body-roll system mitigates the unwieldy feel that cars often assume around corners when we chop off their top in the name of fresh air.

You can even train the voice control system to "learn" your speech patterns so that it screens out verbal crutches like "uh" and "um," and accepts "yeah" for "yes." Again, this is typical technology for Mercedes-Benz, but it's not typical in the real world.
This is the main message about the SL400. It's an entry-level ride from a storied stable of cars, to be sure. But it's still a pedigreed racer. And when you get inside, you'll feel it. 
Before it's here, it's on the Bloomberg Terminal.
LEARN MORE