The Fancy New Concierge, Valet, Chauffeur, and Travel Agent
Extra convenience for your excursions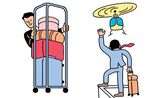 The Fancy New Concierge
If you turn up in a U.S. city like Miami, New York, or Los Angeles without a place to sleep, you could try the app Hotel Tonight, which offers last-minute discounts. Better to put your chips on One Night Standard (standardhotels.com/onenightstandard), an app for Andre Balasz's line of Standard Hotels. You log on at 3 p.m. to snag a room for as low as $200. You might end up with a queen room—which usually costs about double—or the first-come, first-served system could offer a reservation for a top-floor suite. Either way, you get access to the restaurants, bars, and swank amenities, too.
The Fancy New Valet
Constant business travelers know the pain of coming home on Friday and having to clean their shirts for a Monday departure. The app DUFL (dufl.com) plans to fix that. It sends a suitcase in which you pack your favorite travel clothes. DUFL then sends the bag to its warehouse, where the contents are cataloged and stored for $9.95 per month. From then on, the wardrobe is dispatched for $99 to any location in the U.S. as needed. When the trip ends, someone picks up the dirty clothes and readies them for next time. You, meanwhile, get to fly home luggage-free.
The Fancy New Chauffeur
Imagine getting to the airport in six minutes flat. That's the promise made by Gotham Air (gothamair.com), a Manhattan company that commissions helicopters via app to swiftly bring corporate lackeys from a Midtown helipad to JFK or Newark terminals. Choppers are available in as little as 20 minutes, and rides cost $219, which is on par with limousine service. Don't live in New York? You can hire the company for private charters (it's much more expensive), and there are plans to expand regional service this summer.
The Fancy New Travel Agent
If you're glued to your phone on every vacation, snapping Instagrams and texting friends, it might be worth trying El Camino Travel (elcamino.travel). What sets its bookers apart is that they send along a photographer with your group. She'll take dozens of professional shots as you roll cigars in Nicaragua or relax in Colombia's volcanic mud baths. Is it indulgent? Of course. But the idea is to free you from technology so you enjoy the surroundings. Trips last five to nine days, average $235 per night, and include hotel, activities, and meals.
Before it's here, it's on the Bloomberg Terminal.
LEARN MORE