To Bring the Homeless In, Toss the Rules Out
A San Francisco shelter has no curfews and doesn't ban dogs
By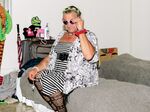 Set in the heart of San Francisco's Mission District, the Navigation Center isn't your typical homeless shelter. Other facilities segregate residents by gender and limit the time they can spend on the premises. The month-old Navigation Center admits couples and groups of friends, allowing them to come and go as they please. Residents can bring their belongings and stay until they have found permanent housing, are reunited with family, or are enrolled in substance-abuse or mental-health treatment programs. The center, which has a maximum occupancy of 75, even welcomes dogs. That's a big reason why a 44-year-old man who goes by Jonny and had been squatting for months at a vacant car wash is staying there. Standing in the center's courtyard, his mutt, Felony Jack, by his side, Jonny says, "I actually have problems with shelters normally, because I've done a lot of prison time and they always remind me of jail."
San Francisco ranks No. 9 nationwide in the number of homeless—6,408 in 2014, according to the U.S. Department of Housing and Urban Development. More than 67 percent of them live outside shelters. The figure is 5 percent in New York, which has roughly 10 times the number of homeless.
The Navigation Center, established with the help of a $3 million anonymous donation, is a pilot project that focuses on the Bay Area's encampments—large groups of homeless living together under freeways and in parks who tend to resist shelters because they don't want to be separated from partners and friends or be forced to abandon their possessions or pets. "If they didn't want to go to shelter, there's really no place we could take them other than jail," says Trent Rhorer, executive director of the Human Services Agency of San Francisco. "And we didn't want to go that route."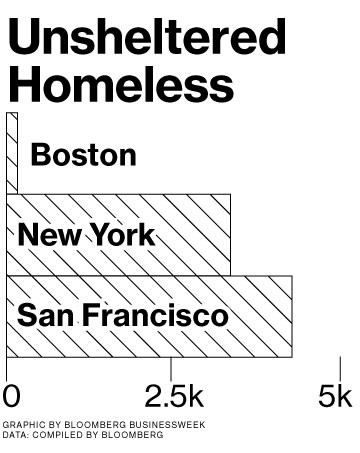 Shelters in American cities often specialize in a certain population, such as families or single people, and they typically let them stay only overnight. "When you set up a lot of rules, a lot of requirements, and a lot of appointments to sign up for benefits, the odds are that person's going to fail," says Bevan Dufty, director of the mayor's office of Housing Opportunity, Partnerships & Engagement, one of the agencies that helps run the Navigation Center. "Our goal here is to make it really difficult to fail."
One of 23 shelters in the city, the Navigation Center is on a site where an elementary school once stood. Visitors sleep in beds in single-story, yellow bungalows that border an open-air courtyard with benches and picnic tables. There are also showers, a laundry, two dog runs, large storage bins to house belongings, and a dining hall supplied by the charity Meals on Wheels. People are brought there by a team of city nurses, doctors, and social workers who visit encampments. On-site counselors enroll them in social services, including food stamps and county welfare benefits, and in some cases help reunite them with family elsewhere. "It doesn't feel like a shelter at all," says Amanda Newitt-Cordova. "It feels like a camp." Newitt-Cordova says she and her husband took a Greyhound bus from Stockton, Calif., to San Francisco, drawn by the city's more ample social services.

The city plans to move the Navigation Center's bungalows to another location next year so it can begin building 125 units of family housing at the site, part of an effort by Mayor Ed Lee to create more affordable housing. In the Mission, a bustling low-income, Latino neighborhood, modest homes are giving way to pricey condos for high-earning tech workers, a trend that's incited protests by longtime residents. Across the city, rents averaged $2,831 in the first quarter of 2015, the second-highest in the U.S. behind New York, according to MPF Research, and were up 53 percent from $1,855 five years ago.

The Navigation Center may become a model. "If this works, I see it being adopted by other cities," says Nan Roman, president and chief executive officer of the Washington-based National Alliance to End Homelessness. The federal government is watching, too, says Matthew Doherty, executive director of the Obama administration's U.S. Interagency Council on Homelessness: "This is a ground-breaking and innovative approach and one that we're paying attention to."
The bottom line: San Francisco is making shelters more palatable to those who are reluctant to leave homeless camps.
Before it's here, it's on the Bloomberg Terminal.
LEARN MORE