Restaurants
New York Chef April Bloomfield Road Tests the London Restaurant Scene
The Spotted Pig chef also discusses obstacles for women chefs
By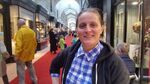 April Bloomfield examines the cake she has been served at a pop-up Champagne-and-afternoon-tea room in Burlington Arcade, a promenade of luxury shops that links Piccadilly to Mayfair.
It's in the shape of a hamburger.
The British-born chef is visiting London from New York, where her restaurants include the Spotted Pig celebrity hotspot, as well as the Breslin, the John Dory, and Salvation Taco. She and business partner Ken Friedman also own Tosca in San Francisco.
Bloomfield is in London to present a prize at the GQ Food & Drink Awards and to prepare for the U.K. publication of her new book, A Girl and Her Greens, the follow-up to A Girl and Her Pig. So how does she compare London and New York for dining?
"Watching London from a distance, I think it's super-exciting," she says. "If you think about it, London hasn't had an influx of good food since the early '90s, so it's great seeing places such as Pitt Cue and Nathan Outlaw and other restaurants making a mark."
(Pitt Cue Co. is a no-reservations, casual joint serving barbecue options such as pulled pork and beef ribs on enamel dishes in a basement in Soho; Outlaw's is a posh fish restaurant in the Capital Hotel, near Harrods in Knightsbridge.)
"I don't know how much difference there is, but it's exciting because it's taken London so long. It feels quite fresh and new. London's taken away from New York a bit. Some of the restaurants have been styled by that: the décor, the casualness."
So London is playing catch-up with New York?
"A little bit," she says. "Not that much. It's probably head-and-head now. There's amazing places like Lyle's, which is supercool and reminds me a bit of Estela in New York."
(Lyle's is a new British restaurant in Shoreditch, where chef James Lowe serves dishes such as cod's tongues, mashed potato, and ramson; mackerel, burnt apple, and horseradish. Ignacio Mattos's Estela, on East Houston Street, serves swordfish with stinging nettles and potatoes; and cured fluke with sea urchin.)
"Lyle's was probably one of my favorite meals last year," she says. "It's simple, it's clean, it's thoughtful, it's precise."
We're talking over afternoon tea at Laurent-Perrier at the Arcade, where pink champagne and exotic teas are served with the even more exotic creations of Hideko Kawa, former head pastry chef at the Fat Duck and formerly of Restaurant Gordon Ramsay. 

That burger is a mini-masterpiece. The bun features aerated blond chocolate and passion-fruit mousse, sprayed dark chocolate glaze with white sesame seeds; the burger is dark chocolate cake; the cheese is saffron and white chocolate ganache; the ketchup is pickled plum; compressed Granny Smith apples pass for lettuce.
With chefs as talented as Japanese-born Kawa, why are there not more women at the top level in restaurants, I wonder aloud. Is it prejudice?
"No I don't think so," Bloomfield says. "When I started, I had two sisters that were both at cooking school and both working in restaurants. It didn't seem that there were any obstacles for a woman because they were the people that I looked up to.
"I have five restaurants and three of those are run by women. I try and employ by ability and drive. It just so happens that they are women. They were the ones that were prepared to work hard and push through the pain and are passionate."
Richard Vines is the chief food critic for Bloomberg. Follow him on Twitter @richardvines.
Before it's here, it's on the Bloomberg Terminal.
LEARN MORE