Monsanto-Syngenta Mega-Merger Would Drive More Deals: Real M&A
Brooke Sutherland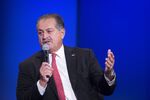 A combination of Monsanto Co. and Syngenta AG would set the stage for even more mergers and acquisitions.
Monsanto has approached Syngenta about a takeover that would create a giant in the market for seeds and crop chemicals with more than $30 billion in revenue. Getting a deal approved by regulators won't be easy -- and may not happen at all. To address antitrust issues and help its case, Monsanto has planned for a deal to include a sale of parts of the combined business, a person familiar with the matter has said.
The biggest concerns may be tied to what would be an unprecedented market share in soybeans and corn seeds for the combined company. Syngenta's operations in those areas would appeal to a range of buyers from Dow Chemical Co. to BASF SE and Bayer AG, said Colin Isaac of Atlantic Equities LLP. Even private-equity firms could look.
Syngenta's "seed businesses would be pretty easy to sell for good multiples," Isaac, a London-based analyst, said in a phone interview. "People are always looking to buy share." On Monday, Syngenta shares gained the most since 2008 in Zurich trading amid the takeover speculation.
DuPont Co. could also be a buyer of any assets that are divested, said Bill Selesky, an analyst at Argus Research Co.
Dupont-Dow
There is another possibility: At Dow, activist investor Dan Loeb once pushed for a breakup, and Chief Executive Officer Andrew Liveris has suggested the company is open to divesting its agriculture unit.
Monsanto becoming a much stronger competitor could be a catalyst for the $60 billion company to more seriously consider taking the step of exiting that business, which made up about 13 percent of its revenue last year, said James Sheehan of SunTrust Banks Inc. That segment would be prime pickings for DuPont and its Pioneer seed business, he said.
"That's the deal that I've always expected to happen," Isaac of Atlantic Equities said in a phone interview. "It's attractive for Pioneer and it's attractive for Dow in terms of focusing their portfolio on the chemicals business and raising a lot of cash."
If Dow doesn't want to sell directly to DuPont, both companies could combine their agriculture businesses in a separate entity, Argus's Selesky said.
Counterbid Potential
A $19.5 billion bid by DuPont for Dow's agricultural-sciences business could generate a 7 percent return on invested capital, according to a report Friday by Laurence Alexander at Jefferies Group LLC. But a DuPont takeover of this business is less likely until agricultural markets improve from current trough levels, he said.
DuPont and Dow may be interested in acquiring all of Syngenta and can't be counted out as possible counterbidders, said Selesky at Argus Research. For Dow, buying Syngenta would give it a strong share of the crop protection and seeds market and create significant opportunity for cost cuts, said Martin Lehmann, manager of 3v Asset Management's 3v Invest Swiss Small & Mid Cap Fund.
Dow may also have a clearer path to regulatory approval in a Syngenta takeover than Monsanto. For example, Dow has a 6 percent share of the corn seed market, compared with Monsanto's 31 percent, according to data compiled by Bloomberg Intelligence.
Dow and DuPont may not want to engage in a bidding war with Monsanto. While Dow and Loeb's Third Point LLC struck a peace accord in November that gave the hedge fund two seats on the board, the activist investor still holds a stake in the company. DuPont meanwhile has been battling with Nelson Peltz about his proposals to unlock value. A pricey purchase by either could draw more criticism.
Whatever the permutations, the agricultural-chemical industry is facing pressure to further consolidate amid slower growth and lower commodity prices, said Lehmann of 3v.
"A Monsanto/Syngenta Deal would mark the beginning of further deals," he wrote in an e-mail.
Before it's here, it's on the Bloomberg Terminal.
LEARN MORE