Look Out Wall Street: There's a New White-Collar Cop in Brooklyn
Christie Smythe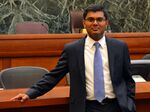 Winston Paes would like white-collar criminals to know they have a new foe in the New York U.S. Attorney's Office. The one in Brooklyn, not Manhattan.
Prosecutors on the other side of the East River have long dominated high-profile cases of financial shenanigans. Paes said he'd like that to change now that he's head of the business and securities fraud section in the U.S. Attorney's Office in the Eastern District. He also doesn't want to disappoint Loretta Lynch, his boss until she was sworn in as U.S. attorney general.
"To me, that's really the most important thing," he said over pizza at Bevacco near his office in Brooklyn. "I want to make sure I don't let her down."
He really is that kind of guy, according to colleagues, loyal, dedicated and nice. That was cause for concern around the office, amiability being a possible handicap for someone in a high-pressure post managing 15 prosecutors with as many as 100 active cases at any given time. But Paes can be tough when he needs to be, said David Rosenbloom, a corporate defense lawyer.
"He is as respectful and attentive to the other side's position as he is persistent in advocating his own," said Rosenbloom, who has opposed Paes in court. "That to me is a real mark of poise and self-confidence."
Paes, 40, hasn't lost a case in more than six years as a prosecutor. Now his ambitions offer the Brooklyn office another chance to step out of the shadow of the one in the Southern District, in Manhattan. That office's alumni include two U.S. Supreme Court justices, two FBI directors and dozens of prominent defense attorneys. But it's produced just one U.S. attorney general, Michael B. Mukasey, and the Eastern District has drawn even with Lynch.
Headline-Making Victories
The rivalry is a frequent topic in the Brooklyn-based Eastern District, which includes Queens, Staten Island and Long Island. The office "has always wanted to put itself on the map in business and securities fraud cases," said Andrew Frisch, a defense lawyer and former Eastern District prosecutor. But there's "a historical and geographical institutional advantage that is hard to overcome. More cases involving Wall Street happen on Wall Street."
For his part, Paes said he's "always felt the pressure and the need to bring in big cases, and the need to compete with them." But he's not sweating it two months into his new gig. "I've never felt any kind of inferiority complex personally. I have done cases I know they would have wanted to do."
One headline-making victory he helped secure was the conviction of former Aeropostale Inc. executive Christopher Finazzo, who was sentenced last year to eight years in prison for directing hundreds of millions of dollars in supply orders to a friend in exchange for kickbacks. Finazzo is appealing.
Compelling Statement
In 2009, he successfully prosecuted former Morgan Stanley broker Darin DeMizio, who was sentenced to 38 months for his part in a stock-loan scheme that generated $1.7 million in kickbacks to his family. Paes "took a really fact-intensive case in a rather obscure and arcane area of Wall Street" and "was able to strip it down to its core in a really compelling 10-minute opening statement," said Kelly Currie, now the acting U.S. Attorney in Brooklyn, who worked the case with Paes.
The section is looking into whether UBS Group AG, the largest Swiss bank, illegally used unregistered securities to help Americans dodge taxes. The bank disclosed in February that it received inquiries from the Brooklyn U.S. Attorney and securities regulators about "potential sales to U.S. persons of bearer bonds and other unregistered securities."
Indian Immigrant
Paes was born in Goa, a former Portuguese settlement on India's western coast, to Catholic school teachers; his mother taught third and fourth grades, his father high school math and French. The family's fortunes turned when his dad died at 45 from a heart attack; he moved with his mother and two younger brothers to the U.S., where an uncle was living, and settled in Queens. He was 18.
It was challenging "being the oldest and having to guide my little brothers through a new life, a new country," he said. His mother worked at Tiffany's, and he helped out with jobs at a McDonald's and in retail stores. He attended Newtown High School -- where he won a city-wide public school writing contest with an essay on Alexander the Great -- and he earned a bachelor's degree in history with a minor in biology from Stony Brook University on Long Island. He graduated magna cum laude from Brooklyn Law School.
Before becoming a prosecutor with the Eastern District in 2008, Paes spent more than four years as an associate at Morgan Lewis & Bockius LLP, where he focused on securities and regulatory issues. While there, he met his wife, Namita Mani, who's still a lawyer at the firm. They have two children.
Paes is philosophical about his wanting to go after, and get, white-collar crooks.
"I look at a lot of those people as being for the most part good people who make mistakes. People get greedy," he said. "They're all tragic stories in their own right." But "I don't cut them a break either. I'm doing my job and holding them accountable for the bad choices that they made."