politics
Kasich Explains to Conservatives How He Won African-American Votes
Ahead of a possible presidential run, Ohio Gov. John Kasich is spreading a message: "I believe in entrepreneurship for everybody."
By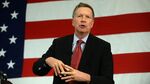 If Ohio Governor John Kasich runs for president, he may well tout the 26 percent of the state's African-American voters who cast a ballot for him in 2014—and how he won their votes.
"The reason why I was able to get that percentage of the vote is I was involved in the school reform," Kasich, a Republican, told a Washington audience at the National Review Ideas Summit Friday afternoon. "You have to have good schools."
African-Americans have voted overwhelmingly for Democrats in recent years, but Republicans have also launched high-profile efforts to court voters of color. Kasich, who last month launched a political committee to raise money for a possible effort in 2016, said that school choice was key to his reforms.
Asked whether the violence that erupted earlier this week in Baltimore after the death of 25-year-old African-American Freddie Gray in police custody helped Republicans to speak to dissatisfaction among black voters, Kasich said that lack of opportunity had "frustrated" people. "Reforming the Cleveland public schools was a big deal to African-Americans in Cleveland," where more than half of residents are black, he added. He also suggested that awarding 20 percent of contracts in a recent highway project to African-American firms had been a success for communities of color.
"I believe in entrepreneurship for everybody," Kasich said at the three-day event, the theme of which is "Why The Future is Conservative." "So what's happened is by doing all those things and giving people a sense that everyone has a stake, everyone can be lifted, everyone can have potential, no one's being left behind. That's the message that we've sent in Ohio."
He said he had also announced the formation of a task force to issue "a statewide policy on the use of deadly force and also a regimen for hiring and recruiting minorities into the police department."
Kasich, who also served 18 years as a member of the House of Representatives before leaving in 2001, won his second term as governor by winning in 86 of Ohio's 88 counties, benefitting from a strengthening economy and a Democratic challenger, Ed FitzGerald, who was dogged by questions of infidelity. The landslide victory was especially sweet in Cleveland, where FitzGerald held office and President Obama had won two-to-one in 2012.
Mark Niquette contributed reporting from Columbus.
Before it's here, it's on the Bloomberg Terminal.
LEARN MORE