technology
Japan's Abe Feels Need for Speed With Tesla's Musk on Test Drive
Alison Vekshin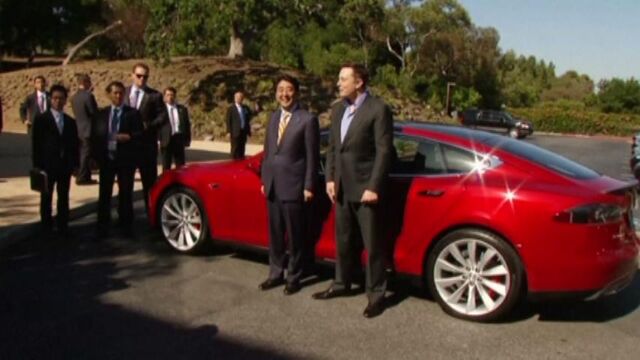 Japanese Prime Minister Shinzo Abe climbed into a cherry-red Model S Tesla with Elon Musk at the wheel. The two drove slowly out of the parking lot at Tesla Motors Inc. before racing out of sight on a Palo Alto road.
"I don't think he gets driven fast in a car very often," Tesla Chief Executive Officer Musk told reporters after the spin on Thursday. "I did say: Is it OK if we go fast? He said: 'Yes.' It was like, OK, boom!" the 43-year-old billionaire said moments after Abe departed.
Abe's brush with Silicon Valley royalty was part of a week-long trip to the U.S. that included a stop in Washington to meet with President Barack Obama and address a joint session of Congress. His visit is aimed at showcasing the world's third-largest economy as a close ally, willing and able to help advance shared economic and strategic goals in Asia and beyond.
Abe's day in Silicon Valley and San Francisco included stops at Stanford University and Facebook Inc., and meetings with venture capitalists and California Governor Jerry Brown. Abe showed the 77-year-old Democrat a bullet-train simulator as part of his nation's bid to sell high-speed rail to California.
"My confidence never wavers when it comes to the strength of Japan's technology and human resources," Abe, 60, said in a speech at Stanford University.
"I am convinced Japan's policy approach to ventures must be fundamentally changed," he said. "Both the business people and the companies must absorb the culture of the Silicon Valley from the top of the head to the little toe in the feet."
Abe announced a program to send 200 Japanese companies to Silicon Valley over the next five years. Separately, 30 Japanese will visit the technology hub every year to present business proposals to investors and entrepreneurs.
Stanford Protesters
About 25 protesters, mostly Chinese-Americans, gathered in the parking lot at the Stanford auditorium, chanting "Shame on Abe," "Abe go home," and "Abe is a liar -- liar, liar, liar!"
In his Congress speech, Abe offered "eternal condolences" to the Americans who died in World War II, while recognizing that Japan's actions "brought suffering" to Asian people. That didn't satisfy some protesters.
"Chinese-Americans as well as people in China feel that Abe and Japan have never faced their war past," said Charles Liu, one of the demonstrators and president of United for a Better Community, a non-profit civil-rights group.
Liu said Japanese officials haven't acknowledged their country's role in the use of "comfort women'' from Korea and other nations who were forced into sexual servitude by the Japanese Imperial Army during the war. Abe this week offered no official apology to those women.
Fun Ride
Abe's motorcade from Stanford took him past hills dotted with grazing horses to Tesla's headquarters, where Musk greeted him in a parking lot where about 25 electric cars were plugged into charging stations.
Musk said Abe had fun on the ride, which was joined by two security officers in the back seat. "We talked about what are the challenges with electric vehicles."
Musk said he spoke to Abe about having parking lots in Japan where electric cars can be charged. Musk has said he plans to have 30 charging stations in Japan this year, the Nikkei newspaper reported.
Abe will attend meetings in Los Angeles on Friday before returning to Japan at the weekend.
Before it's here, it's on the Bloomberg Terminal.
LEARN MORE