Iran Debate Gives 2016ers a Chance to Score Political Points
Senators Ted Cruz and Marco Rubio have introduced amendments that, critics say, threaten the bill giving Congress final approval of the nuclear deal.
By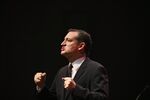 Marco Rubio wants Iran to publicly back Israel's right to exist. Ted Cruz wants to make sure no nuclear deal with Iran goes forward without an explicit congressional endorsement.