Huckabee Promotes Record in 'Bill Clinton's Arkansas' in Announcement Video
The former Arkansas governor will formally announce his presidential campaign next week.
By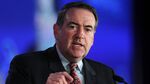 The 2016 presidential campaign wouldn't be the first time former Arkansas Governor Mike Huckabee went up against the Clinton machine. Just ask Huckabee, who on Friday released a campaign video highlighting his history with the Clintons.