Here's the Deal With Dante Fowler's Gold Shoes From the NFL Draft
To accept his No. 3 draft pick, the defensive end wore $7,000 gold Christian Louboutin loafers
By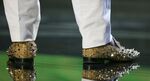 Dante Fowler Jr. appeared in print newspapers across America after he was chosen by the Jacksonville Jaguars as the No. 3 pick at Thursday night's NFL draft.
But the Internet today is fascinated with something else about Fowler from last night: his shoes.
The former University of Florida defensive end was the first newly minted rookie to walk across the stage, since both the No. 1 and No. 2 draft picks didn't attend the ceremony. And when he did, it was impossible to miss Fowler's attire. He had selected a white tux with red piping for the occasion, and he wore a sparkly, spiky pair of gold Christian Louboutin loafers. (Like the famous Louboutin high heels, these also sported a red sole.) If you want to buy a pair for yourself, the loafers will set you back $7,000.

Fowler's were custom, but this gunmental pair comes pretty close.
If this sartorial choice has made you a fan of Fowler's, you'll be pleased to know that this is also a guy who ran the 40-yard dash at the NFL combine in a flashy, gold G-Shock watch and cheetah cleats (and still posted an impressive time of 4.61). He told Deion Sanders on last night's (matching!) gold carpet, "You look good, you feel good, you play good."
We're believers, Fowler. And it looks like you made the right team—the Jaguars' colors are black, teal, and … gold. 
Nic Screws is the style director for Bloomberg. Follow her on Twitter and Instagram, or e-mail her any of your fashion concerns or questions at nscrews@bloomberg.net. 
Before it's here, it's on the Bloomberg Terminal.
LEARN MORE