business
Guaranteed Kentucky Derby Winner (Sort of): David Papadopoulos
David Papadopoulos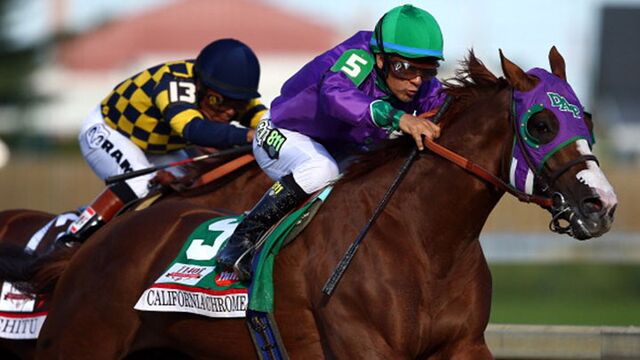 There's a lot of buzz on the eve of the Kentucky Derby about how deep this year's field is.
It's a fair point. I get it. Not only are there two undefeated horses in the race, but there are several others with the kind of resumes that would have made them the race-time favorite in a leaner year.
But there are those big horses, and then there is THE big horse: American Pharoah. He is, in the lexicon of the horseplayer, a freak. More than the gaudy margins of victory he's posting (14 lengths in the last two races alone), it's the way he does it, gliding rhythmically along, gobbling up ground with each massive stride as his jockey sits statue-like in the saddle. To my eye, he even makes last year's talented Derby winner, California Chrome, look pedestrian.
If he runs to his ability on Saturday, he will trounce this field. If he doesn't for one reason or another -- the Derby is, after all, America's most unpredictable race -- then it becomes a wide-open affair. There are any number of quality horses in the 15-1 odds range to tempt longshot players. My favorite of those is Dubai's Mubtaahij.
Here's a horse-by-horse breakdown of the field. Runners are listed by post position. Odds are Churchill Downs Racetrack's forecast of how gamblers will bet.
-No. 1 Ocho Ocho Ocho (50-1) -- The probability of this horse winning is somewhere right around zero.
-No. 2 Carpe Diem (8-1) -- Talented horse with a cool name, but he has two big problems: 1) He drew a terrible inside post position; 2) He appears to be too high-strung to handle the festival-like Derby day crowd. I'll pass.
-No. 3 Materiality (12-1) -- Undefeated in three starts, he's a legitimate rising star. My problem with him is that he's never encountered the kind of race situation like he will on Saturday, stuck behind other horses, dirt being kicked into his face and down his throat. I'm taking a stand against.
-No. 4 Tencendur (30-1) -- Not a bad horse. Just looks a bit overmatched here.
-No. 5 Danzig Moon (30-1) -- Lots of talk at Churchill Downs about how well he's training. Maybe, but he just doesn't look fast enough. Could be a contender for a minor prize.
-No. 6 Mubtaahij (20-1) -- Bred in Ireland, owned by a Dubai sheikh, trained by a South African and ridden by a Belgian, this horse is very cosmopolitan. He's fast, too. I'm a fan. Loved the way he waited patiently behind other horses in the U.A.E. Derby and rolled right by them when asked for run in the home stretch. His early morning gallops at Churchill have only earned mixed reviews from the railbirds -- and that is a concern -- but he seems playable at 20-1.
-No. 7 El Kabeir -- Scratched out of the race.
-No. 8 Dortmund (3-1) -- Undefeated in six starts and a physically imposing chestnut colt, he will be the clear-cut second favorite behind American Pharoah. Just like with Materiality, though, I'm curious to see how he acts if he finds himself stuck behind other horses. I won't be betting him.
-No. 9 Bolo (30-1) -- More of a grass horse than a dirt horse, but seems to have some ability. Maybe one for those looking for a big longshot.
-No. 10 Firing Line (12-1) -- If you like Dortmund, then you have to like this horse at least a little bit. He ran eyeball to eyeball with that one before coming up just short in two great races in December and February. Playable at 12-1.
-No. 11 Stanford -- Scratched out of the race.
-No. 12 International Star -- Scratched out of the race.
-No. 13 Itsaknockout (30-1) -- He was beaten by 21 lengths in his last race. Need I say more?
-No. 14 Keen Ice (50-1) -- And this one lost his last five races by a combined 42 lengths.
-No. 15 Frosted (15-1) -- Very talented, but a bit quirky. If he duplicates the race he ran a month ago in New York, he could be dangerous. Tempting play at these odds.
-No. 16 War Story (50-1) -- I've lost way too much cash on this guy already. I'm done. You burn money on him this time.
-No. 17 Mr. Z (50-1) -- If this horse wins this race, I will give away all my worldly possessions -- including my beloved, beat-up Ford Ranger -- to charity.
-No. 18 American Pharoah (5-2) -- Don't just take it from me. My 12-year-old daughter Victoria, the sharpest handicapper in the Papadopoulos clan, is all in on the big horse.
-No. 19 Upstart (15-1) -- Very nice New York-bred horse. I couldn't fault anyone for betting him at a price of 15-1.
-No. 20 Far Right (30-1) -- He put back-to-back victories together down in Arkansas before American Pharoah rolled into town last month and crushed him. Looks a cut below the top horses in here.
-No. 21 Frammento (50-1) -- In over his head.
(David Papadopoulos, managing editor for the Americas editing hub at Bloomberg News, has been following thoroughbred racing for more than two decades and was runner-up in 2008 Eclipse Award voting for feature writing on the sport.)
Before it's here, it's on the Bloomberg Terminal.
LEARN MORE