Two Ex-Christie Allies Charged in Bridge Case; Third Plea
David Voreacos, David Kocieniewski and Elise Young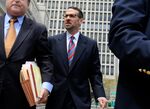 Two former aides and allies of New Jersey Governor Chris Christie were indicted and a third pleaded guilty over their roles in causing traffic jams near the George Washington Bridge to punish a local mayor.
The federal charges stopped short of saying Christie, a Republican considering a White House run, knew of the in September 2013 lane closures that paralyzed traffic for four days. David Wildstein, who pleaded guilty Friday, said he plotted with others to create gridlock because Fort Lee Mayor Mark Sokolich wouldn't cross party lines to endorse Christie's re-election.
Grand jurors also indicted Bridget Kelly, a former deputy chief of staff to Christie, and Bill Baroni, a former deputy executive director at the Port Authority of New York and New Jersey, which runs the bridge.
Christie, 52, has worked to repair the political damage of the scandal as his popularity has waned in recent months. He has denied any knowledge of the plot, and did so again Friday.
"Today's charges make clear that what I've said from day one is true: I had no knowledge or involvement in the planning or execution of this act," Christie said on his Twitter feed.
"The moment I first learned of this unacceptable behavior I took action, firing staff believed to be accountable, calling for an outside investigation and agreeing to fully cooperate with all appropriate investigations, which I have done," he said.
Mayor's Pleas
Wildstein, who has been helping prosecutors for months, said he, Kelly and Baroni plotted to create the tie-ups, ignore Sokolich's pleas for help and concoct a cover story that it was part of a traffic study. By reducing local access lanes from three lanes to one, they sowed gridlock during the first week of school.
Wildstein, 53, didn't implicate Christie in court. His lawyer, Alan Zegas, said later that "evidence exists" he knew of the plot as it took place.
"There is a lot more that will come out," Zegas said outside the courthouse in Newark. "Christie knew of the lane closings while they were occurring, and evidence exists to establish that."
Paul Fishman, the U.S. attorney for New Jersey, declined to answer numerous questions about Christie's role.
'Further Charges'
"Based on the evidence available to us today, we are not going to bring further charges on the bridge case," Fishman told reporters after Wildstein's plea.
While the case involves unindicted coconspirators, Fishman said he wouldn't identify them publicly at this point.
Wildstein pleaded guilty to two counts of conspiracy. Kelly and Baroni were charged with three conspiracy counts each, wire fraud, deprivation of civil rights and misapplying property of an organization receiving federal benefits.
The plot came to light with the publication of an e-mail sent by Kelly a month before the closures.
"Time for some traffic problems in Fort Lee," she wrote on Aug. 13, 2013. "Got it," replied Wildstein, then the interstate capital projects director at the Port Authority.
Christie said on Jan. 9, 2014, that he was "blindsided" and "embarrassed and humiliated" by members of his team. He fired Kelly and cut ties to Bill Stepien, a political adviser who was included in e-mails about Sokolich.
A law firm commissioned by Christie, Gibson Dunn & Crutcher LLP, blamed the plot on Kelly and Wildstein, saying in a March 2014 report that they acted for an undetermined "ulterior motive" in punishing Sokolich, a Democrat.
Lawmakers' Probe
State lawmakers spent almost a year trying to figure out what the governor and members of his administration knew and when, issuing dozens of subpoenas and holding hearings that gripped the state capital of Trenton.
Their report last December also pinned blame on Kelly and Wildstein, while saying some key questions remained outstanding, including why Kelly sent Wildstein her "traffic problems" e-mail. It asked whether they acted on their own or with the knowledge and approval of anyone else.
Wildstein and prosecutors provided some answers in the charges. The motive was to punish Sokolich for not endorsing Christie, and they waited a month to close the lanes without telling anyone in Fort Lee what was happening.
"Were the decisions not to give advance notice and to select the first day of school made to maximize the traffic congestion in Fort Lee and, thus, the punishment of Mayor Sokolich?" U.S. District Judge Susan Wigenton asked Wildstein. He answered yes.
'Radio Silence'
Wildstein admitted they ignored Sokolich's increasingly desperate pleas to open the lanes, engaging in "radio silence." He also admitted they concocted a fictional traffic study to "conceal the true punitive nature" of the scheme.
Baroni furthered this bogus story on Nov. 25, 2013, when he testified to the state Assembly transportation committee, saying falsely that the lane reductions were part of a traffic study.
The siege ended on the fifth day after Port Authority Executive Director Patrick Foye, appointed by Democratic New York Governor Andrew Cuomo, ordered the lanes' immediate reopening.
Kelly on Friday joined her attorney, Michael Critchley, at a news conference where said Wildstein is a liar and she is confident she'll be cleared of all charges. She said she will "fight relentlessly" to clear her name.
"I look forward to publicly sharing the truth about what occurred," Kelly said. "The thought that I was the only person in the governor's office aware of the George Washington Bridge lane closings is ludicrous."
'Too Toxic'
Kelly said she deeply regrets and is embarrassed by the "insensitive tone" of some of her e-mails. Critchley said that some of Kelly's friends have abandoned her, that she may lose her house, and that potential employers consider her "too toxic" to hire. He said she also felt betrayed by the governor.
Baroni's attorneys released a statement saying that he will be exonerated. They said he believed a legitimate traffic study was under way.
"David Wildstein lied to Bill Baroni, his close friend of over a decade, about the impetus for a traffic study," they said in a statement. "Today, habitual liar David Wildstein lied to a federal judge about Bill Baroni."
Fishman declined to answer questions on other aspects of his investigation involving former Port Authority Chairman David Samson.
Prosecutors are examining whether Samson may have abused his Port Authority post. They also are probing weekly flights that United Continental Holdings Inc. initiated between Newark Liberty International Airport and Columbia Metropolitan Airport in South Carolina, about 50 miles (80 kilometers) from a house in Aiken that Samson's wife owns.
The cases are U.S. v. Baroni, 15-cr-00193, and U.S. v. Wildstein, 15-cr-00209, U.S. District Court, District of New Jersey (Newark).