GM U.S. Sales Top Estimates Amid Strong Demand for Light Trucks
Mark Clothier, David Welch and Keith Naughton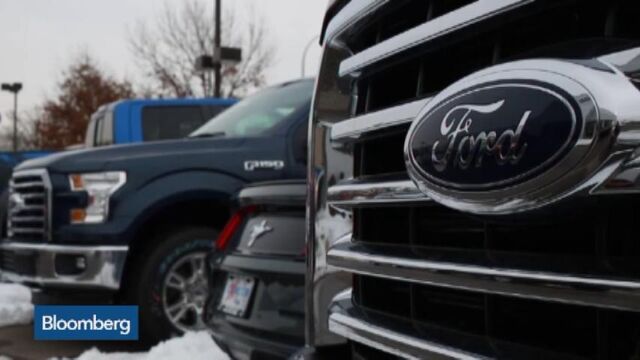 Automakers reported the best April sales in a decade even as some of them missed analysts' estimates. The good news is that highly profitable pickups and sport utility vehicles remain popular with shoppers.
Deliveries of cars and light trucks last month rose 4.6 percent to 1.45 million, according to Autodata Corp. While that's the most since 2005, it was also less than the 1.47 million estimated by analysts. The annualized selling rate, adjusted for seasonal trends, rose to 16.5 million from 16.1 million a year earlier, the researcher said in an e-mail. The average estimate was for a 16.7 million pace.
"Even if we're a little short of expectations, it's still a great month for the industry," said Eric Lyman, vice president of industry insights for Santa Monica, California-based automotive pricing firm TrueCar Inc. "It continues to lead the broader economic recovery."
General Motors Co. deliveries rose 5.9 percent, exceeding projections for a 5.3 percent gain. Increases by Ford Motor Co., 5.4 percent, Toyota Motor Corp., 1.8 percent, Fiat Chrysler Automobiles NV, 5.8 percent, and Nissan Motor Co., 5.7 percent, were less than predicted. Honda Motor Co. sales declined 1.8 percent.
With U.S. gasoline prices down by about a third from a year ago, sales of large and luxury sport utility vehicles soared 31 percent in the first quarter, while family sedan sales fell 3 percent, according to Autodata, and that trend continued in April.
Trucks and SUVs remain the story for carmakers, analysts said. Compact SUVs outsold compact cars last month for the first time, said Larry Dominique, president of ALG Inc., which sets automotive resale values for the industry.
"This is the year of the crossover, the SUV and the pickup," he said in a telephone interview. "It used to be that the sedan was the status vehicle that people aspired to. Now we're seeing that desire shifting to sport-utilities."
It's getting so hard to sell a small car, Ford is laying off 700 workers at a Michigan factory that makes compacts and hybrids.
Jeep Jumping
FCA's U.S. unit posted deliveries of 189,027 vehicles last month. Ram pickup sales rose 3.4 percent to 37,921. Jeep deliveries jumped 20 percent to 71,759, the brand's best month ever, led by the Cherokee, Wrangler and Grand Cherokee.
"Our all-new Jeep Renegade small SUV is off to an exceptional start with more than 4,200 units sold in its first full month in the market, helping to propel our Jeep brand to its best monthly sales ever," Reid Bigland, Fiat Chrysler's head of U.S. sales, said in the statement.
Sales of GM's Chevrolet Silverado pickup rose 7.5 percent to 45,978 and the brand also sold another 7,010 of its Colorado mid-sized pickup, which was not on sale this time last year.
The largest U.S. automaker doubled sales of its Cadillac Escalade SUV and sales of its Cadillac SRX and Chevrolet Equinox crossover SUVs both rose more than 40 percent. The Chevrolet and GMC brands, which are both strong in light trucks, rose 3.4 percent and 20 percent. Cadillac was up 14 percent, while Buick sales fell 5.2 percent.
Ford Changeover
Ford said it had its best April since 2006. Sales of its F-Series pickup line, which includes the new aluminum-bodied F-150, fell 0.9 percent in April as the automaker continues to ramp up a second factory to build its top-selling vehicle. SUV sales jumped 14 percent, driven by the Edge, which rose 78 percent. Most of Ford's car models showed declines, with the exception of the Mustang sports car, which had its best April in nine years, with sales up 81 percent.
Toyota's results were dragged down by a 4.6 percent decline in its car sales, which included a 15 percent drop in Prius deliveries and a 10 percent falloff for the Camry, the top-selling car in America. Toyota's RAV4 small SUV surged 22 percent in April and its 4Runner mid-sized SUV jumped 18 percent. The company's Lexus brand sales rose 12 percent, powered by a 24 percent increase in SUV sales.
While gasoline prices have increased 16 percent since the start of 2015, a gallon of regular gasoline still costs more than a dollar less than it did a year ago, according to AAA, the motoring club.
GM shares rose 1 percent to $35.42 at the close in New York, while Ford also gained 0.1 percent to $15.81. FCA dropped 0.7 percent to $14.65, the lowest closing price in two months. Toyota's American depositary receipts rose 0.7 percent to $139.96, and Honda's gained 2.1 percent to $34.22.
Incentive Discipline
With demand being strong, most automakers are able to keep incentive spending in check, said Alec Gutierrez, senior analyst with Kelley Blue Book, an automotive research firm in Irvine, California.
Spending on rebates and finance deals remained little changed in the month with GM and Ford actually spending less than last year, Gutierrez said in a telephone interview.
FCA US is spending more than competitors, especially at its Dodge and Chrysler brands, he said, while Jeep continues to sell well without heavy incentives. FCA's incentive spending rose about 13 percent.
"Industry incentive spending was flat and average transaction prices were up," Gutierrez said. "Chrysler is definitely outspending the rest of the industry."
Chrysler brand sales jumped 26 percent, led by the 200 mid-size sedan, deliveries of which more than quadrupled to 18,850.
Americans' demand for high seating positions also boosted sales of more modest-sized SUVs. Small SUVs accounted for 18.5 percent of industrywide sales in April, up 2 points, topping the 13 percent of the market that went to family sedans, according to Erich Merkle, Ford's sales analyst. Mid-sized SUVs represented 12 percent of industrywide sales last month, up 1 point, he said.
Luxury SUVs are also gaining ground, with the 20 percent gain reported last month by Ford's Lincoln line coming entirely from two models -- the big Navigator and the MKC compact SUV.
"In the luxury segment, utilities have been hot, much like they have been in the general market," Mark LaNeve, Ford's U.S. sales chief, said on a conference call with analysts. "We ran really hard with our entire SUV lineup."