Can Bernie Sanders Duck Super-PACs?
Will the man who denounces big money get some anyway?
By and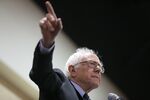 Vermont Senator Bernie Sanders has been an outspoken critic of big money and super-PACs. Now that he's jumped in the presidential race to challenge Hillary Clinton for the Democratic nomination, can he avoid them?
Already, one super-PAC pledging to promote Sanders' candidacy, "Ready for Bernie Sanders 2016" is ramping up its visibility now that Sanders is in, and renaming itself "Bet on Bernie." The founder, a man named Cary Lee Peterson, said he expects to spend about $50,000 on a Times Square billboard supporting Sanders. Peterson, in a telephone interview, said he doesn't actually know Sanders but admires his background and positions, and that, with Sanders now an official candidate, he's been contacted by about 5,000 volunteers and received about $58 million in pledges—but so far has only about $2,000 in hand. 
Nothing underscores the complications that super-PACs have introduced into the political world more than the emergence of a committee able to collect unlimited donations for a man who has made getting big money out of politics a centerpiece of his platform. "He's running. We support him," said Peterson. While there's been plenty of concern about unauthorized committees glomming onto popular political brand names to raise money, the Federal Election Commission has said it lacks legal authority to do much about it.
Peterson was vague about his connection to Sanders. "I have met Bernie Sanders, but not like 'Hi, I'm Cary Lee Peterson,'" he said. "We have been in the same place at the same time.'" He's apparently also vague about election law. Committees that are not connected with an active candidate are prohibited from using that candidate's name to raise money.  So the Federal Election Commission is likely to frown on "Bet on Bernie." And Peterson was also vague about his own background. "Southern Maryland" was as specific as he would get when asked where he lives. 
Describing himself as a lobbyist, Peterson said he was born in Minnesota,  and raised in Harlem and now lives in Maryland. His lobbyist registration forms, filed just last week, lists his address as Las Vegas. Peterson also said he has homes in Australia and Guam.
Now that Sanders' campaign is official, Peterson said he can start collecting on those donor pledges. He said some are in the hundreds of thousands of dollars. "Now I'm sending my foot soldiers out, and I'm going to collect that $58 million," he said.
More established super-PACs have yet to make a decision about Sanders. In the hours immediately following the senator's announcement, several labor, environmental and progressive groups with super-PACs or ties to super-PACs were heaping praise—but not yet money—on Sanders.
The League of Conservation Voters said in a statement Thursday that it has "a very thorough endorsement process that has not yet started" and "we have no announcement for plans regarding any candidate at this time." Spokesman Seth Stein said that "given Senator Sanders' long history of environmental leadership, we expect he will make the need to act on climate change a priority on the campaign trail" and that "we are urging every presidential candidate to be explicit about their plans to combat the greatest challenge of our time."
The Progressive Change Campaign Committee's co-founder Adam Green said that Sanders is "a positive addition to the race" and has been "a vibrant progressive voice for years" while PCCC officials were not aware of any efforts to back Sanders through super-PACs.
AFL-CIO President Richard Trumka said Sanders "has a strong record of supporting working families" and that "the field remains open.  And the labor movement's doors are open to any candidate who is serious about transforming our economy with high and rising wages."
"We like Bernie," said United Steelworkers Union spokesman Gary Hubbard, who noted the group gave Sanders an award earlier this month and expects to see him "pushing Hillary" on issues the group cares about, including trade. At the same time, members have not weighed in about who they want to support and how, he said. And Hubbard said AFL and non-AFL affiliated unions have pledged to distribute no PAC money to federal candidates including presidential candidates until after Congress completes the fast track vote for a trade deal.
If established groups do choose to support Sanders through independent spending, it could provide an awkward boon for the candidate who has vowed to reduce the influence of big money on politics. 
(David Weigel contributed reporting.)