Can Bernie Sanders Duck Super-PACs?
Will the man who denounces big money get some anyway?
By and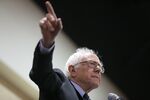 Vermont Senator Bernie Sanders has been an outspoken critic of big money and super-PACs. Now that he's jumped in the presidential race to challenge Hillary Clinton for the Democratic nomination, can he avoid them?