Quarterbacks Winston, Mariota Linked as Top Two NFL Draft Picks
Erik Matuszewski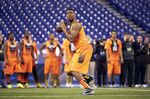 Quarterbacks Jameis Winston and Marcus Mariota will forever be linked in National Football League draft history, like Peyton Manning and Ryan Leaf in 1998 and, five years earlier, Drew Bledsoe and Rick Mirer.
For just the third time, quarterbacks were picked first and second overall and no other signal-caller was drafted in the opening round. Winston was taken first by the Tampa Bay Buccaneers, who looked past the off-field issues that became as widely known as the 2013 Heisman Trophy winner's on-field success at Florida State University.
"I can't wait to get down to Tampa Bay," Winston said. "I'm going to come in and work hard day-in and day-out, be a great teammate, compete and try to earn everyone's trust."
The Tennessee Titans followed by taking Mariota from the University of Oregon after entertaining trade offers for the pick from a group of teams that included the Philadelphia Eagles, who are led by his former college coach, Chip Kelly.
In all, nine players from the Atlantic Coast and Pacific-12 conferences were among the 32 first-round selections. Florida State and Winston were in the ACC, with Oregon and Mariota in the Pac-12.
The second and third rounds of the draft are scheduled for Friday in Chicago, with the final four rounds on Saturday.
After no running backs were taken in the first round the past two years, two were drafted Thursday.
Todd Gurley became the first running back drafted in the opening round since 2012, as the former University of Georgia star was taken by the St. Louis Rams with the 10th pick. The San Diego Chargers then traded up two spots to draft Melvin Gordon from Wisconsin at No. 15.
Six Receivers
In addition to Winston and Mariota, the NFL's increased focus on passing offenses was evident as six wide receivers were drafted Thursday, with Amari Cooper the first among them.
The former Alabama wideout went fourth to the Oakland Raiders, while the draft-host Chicago Bears took West Virginia receiver Kevin White with the seventh pick and the Miami Dolphins used the 14th pick on DeVante Parker of Louisville. The Eagles, after being unable to land Mariota, took University of Southern California receiver Nelson Agholar at No. 20 to plug into Kelly's fast-paced offense.
"It was just a really steep price," Kelly said of trying to trade up to get the second pick. "It was like driving into a nice neighborhood and looking at a house, and they tell you the price and you walk away. We didn't walk in the front door and take a look around."
Jets' Pick
The New York Jets used the sixth overall pick on Leonard Williams of USC, one of five defensive ends drafted on Day 1. The first of the draft was Dante Fowler Jr., who went third to the Jacksonville Jaguars.
The Washington Redskins grabbed the first of seven offensive linemen, selecting Iowa's Brandon Scherff with the fifth pick. The New York Giants at No. 9 followed by taking offensive tackle Ereck Flowers from Miami.
Buccaneers coach Lovie Smith said he had to trust his instincts in taking Winston with the top pick.
Winston, 21, went 26-1 over two years as a starter for the Seminoles and won a national championship in addition to the Heisman. He was accused of raping a fellow student in December 2012 -- he wasn't charged by the state attorney's office -- was suspended one game for shouting an obscenity on campus, and received a civil citation for leaving a store without paying for $32 worth of crab legs and crawfish.
'Bad Decisions'
"We acknowledge he's made some bad decisions," Smith said. "Some young people from time to time do that. I feel that's the case with Jameis. I've talked to him about everything that's happened and I don't think that's going to be a part of his future."
Winston joins a Buccaneers team that had a 2-14 record last season -- tied for worst in the NFL -- and ranked 25th out of 32 teams in yards passing. Tampa Bay is 30-66 the past six years, and hasn't won a playoff game since its run to a Super Bowl title after the 2002 season.
Mariota goes to the Titans after leading Oregon to a 36-5 record over the past three seasons and setting a National Collegiate Athletic Association record by throwing a touchdown pass in all 41 career starts. The Titans have had different quarterbacks lead them in passing yards each of the past six years.
The last time a pair of quarterbacks went 1-2 was in 2012, when Andrew Luck and Robert Griffin III were the top choices. Two other quarterbacks were taken in the first round that year. Since the beginning of the common draft in 1967, this marked the sixth time that quarterbacks went first and second.
"This is truly a dream come true," said Mariota, who watched the draft with friends and family in his home state of Hawaii. "I've got to do my best to put my best foot forward and that's to learn the complexities of the playbook and then perform when I get in there."
Before it's here, it's on the Bloomberg Terminal.
LEARN MORE