$10,000 Derby Seats Net Churchill Downs $83 Million in 2 Minutes
Christopher Palmeri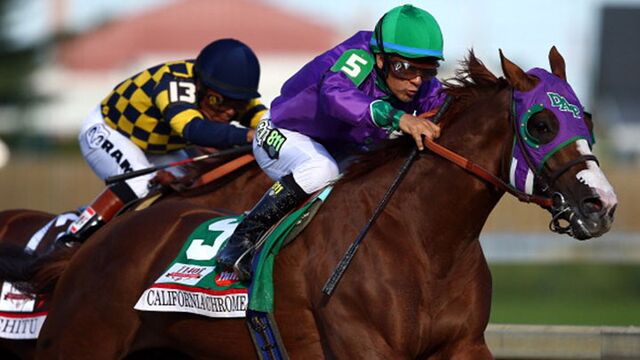 Saturday's Kentucky Derby already has one guaranteed winner: The company that hosts the storied race will earn about $83 million for a spectacle that lasts a little more than two minutes.
Churchill Downs Inc. has seven casinos and tracks in the U.S., as well as its namesake property in Louisville. Yet the Run for the Roses will produce 30 percent of annual earnings, according to Cameron McKnight, a Wells Fargo Securities analyst. He estimates the race will generate record earnings this year, rising by $5 million, or 6 percent.
To keep profit climbing and entertain the 165,000 or so on hand for racing's biggest day, Churchill Downs has poured $180 million into the track since 2001. Three years ago, the company opened the Mansion, an area with its own entrance, chefs and 322 seats that average $10,000 each on Derby day. Other additions include a jumbo screen for grandstand fans and 20 finish-line boxes for horse owners.
"The Derby's importance extends far beyond the economic contribution," William Carstanjen, Churchill Downs' chief executive officer, said in an interview. "It remains the heartbeat of the company."
Of the 20 horses scheduled for the May 2 race, American Pharoah is the favorite at 5-2, according to odds posted Thursday at KentuckyDerby.com, followed by Dortmund at 3-1. Both are trained by Bob Baffert. Secretariat holds the all-time speed record of 1:59:40 set in 1973.
The absence of an overwhelming favorite bodes well for betting since there will be "less certainty and more theories," Carstanjen said. "Generally that's good for us."
Racing Slowdown
The Derby is a bright spot for an industry that's been declining for years. Betting nationwide has shrunk by a third since 2003, to $10.6 billion last year from a peak of $15.2 billion, according to the Jockey Club, an industry group.
Tracks like Suffolk Downs, near Boston, and Hollywood Park, in Southern California, have dropped live racing or been razed, and the industry's biggest players, such as Churchill Downs and Penn National Gaming Inc., have expanded with casinos as the industry has declined.
Slightly more than half of the Derby's profit comes from premium ticket sales, according to McKnight. TV rights and sponsorships account for 23 percent, while betting is 16 percent. Food and beverages, including 120,000 mint juleps, the race's signature drink, amount to just 4 percent.
Attendance of 164,906 at the Derby last year was just shy of the 2012 record of 165,307. The race never sells out, Carstanjen said, as there's always room in the infield. The Derby dates back to the founding of the track in 1875.
Churchill Shares
Shares of Churchill Downs have tripled over the past five years as the company expanded into casinos and online games, and acquired additional tracks. That compares with about a 75 percent return for the Standard & Poor's 500 index.
Churchill Downs also owns TwinSpires, an online horse-betting business that produced $190 million in revenue last year. In December, the company paid $485 million for Big Fish Games Inc., a Seattle-based maker of mobile games such as Gummy Drop! and Big Fish Casino. That tab could reach $835 million if the business hits certain targets.
Employees of Big Fish Games will be in attendance at the Derby, Carstanjen said
"We hope that gets their creative juices flowing and they see some way to leverage our social and casual gaming business," he said.