Why David Cameron Might Lose Next Week's Election
Stagnant productivity and lower wages are threatening the U.K.'s recovery
By and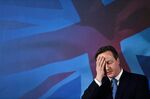 Incumbent governments don't tend to lose elections when economic growth is strong, unemployment is modest and falling, and inflation is zero. That's a good description of Britain, so in the final days before its May 7 election, Prime Minister David Cameron says, his Conservative Party will campaign on its economic record "to the exclusion of everything else." Even so, polls in late April show voters have yet to reward the Tories for their performance. That reluctance favors the Labour Party's Ed Miliband, who once sorted the business world into "producers" and "predators" and has struggled to convince swing voters that he'd be a good steward of the economy.
The reason a strong lead in the polls eludes Cameron might lie with Britain's workers. The Tories have presided over a drop in unemployment, to 5.6 percent, and strong economic growth in 2014. The problem for Cameron is that average paychecks, adjusted for inflation, have shrunk. In a September speech to the annual Trades Union Congress in Liverpool, Bank of England Governor Mark Carney said inflation-adjusted pay was down by about a tenth since the start of the financial crisis. "To find such a fall in the past, you would have to look back to the early 1920s," Carney said.
The sharp decline in oil prices has given workers a boost. Early this year, however, their buying power was still almost 6 percent below its 2007 prerecession peak, according to the independent National Institute Economic Review in February. The drop in inflation-adjusted wages is so steep that, the publication predicted, "it will not be until early 2020 that this previous peak is regained." The productivity and wage recovery may be running into headwinds. On April 28, the government reported that gross domestic product grew just 0.3 percent in the first quarter, its worst showing since 2012.


It may seem odd that job growth is strong while pay is weak, but the trends may have the same explanation: poor productivity. Gross domestic product per hour of work fell sharply in 2008-09. After a brief rebound in 2010-11, its growth rate has rattled around at close to zero. According to the Bank of England, output per hour of work hasn't flatlined this badly since Queen Victoria sat on the throne (excluding the demobilizations after both world wars). The number's so bad, it's led to quizzical inquiries by the country's European neighbors. "This persistence in weak productivity is unique, particularly from a historical point of view, as well as in comparison with the trajectory observed in other developed countries," an April paper written by French government economists said. It's not literally true that French workers could take Friday off and still produce more than Britons, as Labour's shadow business secretary told BBC Radio in February, but it's close enough to reality to embarrass those, including Cameron, who hold up President François Hollande's policies as a case study in how not to run an economy.
"That weak productivity growth is not the result of laziness on anyone's part," the BOE's Carney told the trade unionists in Liverpool last year. Rather, he said, companies haven't been buying the new machines and software workers need to raise their game. With wages low and loans hard to get, companies have found it cheaper and easier to add people than to buy equipment, Carney said.
The thinness of Britons' pay packets has put them in no mood for the next stage of austerity promised by Cameron's Conservatives. The independent Institute for Fiscal Studies estimates that if the Tories form the next government, they'll squeeze spending hard. Labour says the IFS's report provides evidence the Tories would slash welfare handouts and, says one Labour campaign poster, "cut to the bone" the budget for the state-run National Health Service. Polls show voters don't trust the Tories' management of the NHS.
Voters would be surprised that Cameron is not the rigid supporter of austerity he's reported to be. Chancellor of the Exchequer George Osborne said in 2011 that abandoning austerity risked "financial turmoil" and defended his government's promise to eliminate the deficit by the next election. But the following year, with near-zero economic growth, the government quietly stopped belt-tightening. This year will probably see a deficit of £75.3 billion ($116 billion), about 4 percent of the U.K.'s GDP, with the deficit elimination target extended to 2019.
A victorious Labour would ease state spending cuts, which the party says would be financed by mostly unspecified revenue increases, including higher taxes on the financial sector, top earners, and owners of homes worth more than $3 million. Futures markets for sterling and British government debt suggest a quick resolution of political uncertainty after the election, according to Royal Bank of Canada's senior U.K. economist, Sam Hill. The markets may be in for a surprise. "There are so many different possible scenarios that it's hard to work out either what the final outcome would be or the time it would take to get there," says Peter Kellner, president of the YouGov polling organization.
Kellner forecasts "a messy result" that will take weeks to resolve if Labour and the Tories win a similar number of seats in Parliament, leaving both parties with legitimate claims to form a government. A likely prospect is a repeat of 1974, when a minority Labour government formed in March limped along until new elections were called in October, says Kellner.
Companies are getting nervous about investing, according to a Deloitte survey of U.K. chief financial officers, because either a Tory or Labour administration could give them a rocky ride. Businesses worry about tax hikes under Labour and a British exit from the European Union under the Tories. Whoever wins will face the challenge of raising living standards. Creating jobs isn't enough. The U.K. needs jobs that pay.
The bottom line: Cameron's Tories are struggling to convince voters that wage gains will materialize in his second term.
Before it's here, it's on the Bloomberg Terminal.
LEARN MORE