What Paul Ryan Will Be Doing In the 2016 Campaign
Party-building, tax-writing and enjoying the kids on weekends.
By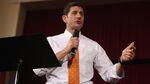 Representative Paul Ryan, the heartthrob of budget hawks and the Republican Party's 2012 vice presidential nominee, said Thursday that 2016 Democratic presidential favorite Hillary Clinton is "effectively an incumbent" with a "huge head start" over the crowded field of Republicans running for president.
Ryan, who disappointed some fans by not joining that field and focusing instead on his work as chairman of the tax-writing U.S. House Ways and Means Committee, has a plan to help his party catch up. At a Christian Science Monitor breakfast with reporters, he said he's working with Republican National Committee Chairman Reince Priebus to build a general-election campaign structure now "so that it's already built" when a Republican nominee emerges.
Ryan, who's staying neutral in the nominating contest while he serves as chairman of the RNC's Presidential Trust, said he's excited about the "high-quality candidates" competing for the Republican nomination and isn't worried about the large number of competitors.
"I don't think it's a bad thing at all," he said. 
"We're trying to prepare for the general election at the RNC so much more than we ever had before because of the lessons we learned in 2012," Ryan said. "You know, we were running against an incumbent then. Hillary, you could say, is a de facto incumbent. What I'm trying to do with Reince is build a general-election campaign pre-nominee so that it's already built by the time the person arrives ... so that they can get kind of a turnkey operation to be competitive with Hillary, who's effectively an incumbent."
No regrets about sitting this cycle out, said Ryan, who is pushing a trade promotion authority bill (which President Barack Obama supports but many in his party don't) and tax overhaul.
"I'm a policy person, so I don't have to be the guy," said the 45-year-old Wisconsin lawmaker. "The role I see myself playing is helping prepare for governing in 2017, helping the party prepare an agenda to show the country in 2016, to run on in 2016, so that we can have a real choice-based election."
"I think I can make a big difference as chairman of the Ways and Means Committee" said the father of three, "and I'm home on weekends."