Wal-Mart Said to Discuss Moving Regional Staff to Arkansas
Renee Dudley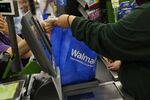 Wal-Mart Stores Inc. is discussing shifting regional operating staff in the field back to headquarters, a bid to reduce expenses and reassert control over its sprawling operations, two people familiar with the situation said.
The move would relocate personnel from around the U.S. to the corporate office in Bentonville, Arkansas, said the people, who asked not to be identified because the matter isn't yet public. Staff for each region oversee a grouping of stores for Wal-Mart, the world's largest retailer. It has about 4,500 U.S. locations in all.
When asked about the proposed relocation, Wal-Mart spokesman Brian Nick said, "There are no plans at this time to move regional leadership to the home office."
The restructuring idea would be the latest attempt by Chief Executive Officer Doug McMillon to improve efficiency and customer service at the chain. The CEO, who took the reins more than a year ago, also is eliminating a layer of management within stores and raising the wages of rank-and-file workers -- hoping that happier employees will make for happier customers.
It's unclear how many jobs might be affected by the potential move, though hundreds of regional employees are stationed around the country. If the plan moves forward, people not relocated to Bentonville might be reassigned or let go.
Out-of-Stock Products
McMillon lieutenant Greg Foran, the head of Wal-Mart U.S., has been working to address out-of-stock merchandise and other concerns at stores. On a conference call in April, Foran said store functions would "require some rework." He cited areas such as overnight stocking, fresh food and excess inventory in backrooms.
"We want this year to be the year of improving our stores," Foran said on the call.
Wal-Mart, the largest private employer in the U.S., hiked the wages of about 500,000 of its 1.3 million employees in April. Hourly rates rose to $9 an hour, with a boost to $10 planned for next year.
Management is working to reinvigorate growth at Wal-Mart, which cut its sales forecast in February. The higher spending on wages and other investments also have raised concerns for investors.
Wal-Mart's shares have declined 9.1 percent this year through Thursday's close. That compares with a gain of 1.3 percent for the Standard & Poor's 500 Index. The stock climbed 0.7 percent to $78.59 as of 10:01 a.m. in New York on Friday.
Before it's here, it's on the Bloomberg Terminal.
LEARN MORE