U.S., Canada Said to Diverge on Crude-Train Safety Standards
Josh Wingrove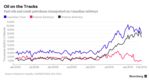 Tougher Canadian and U.S. joint standards for rail tanker cars to be unveiled Friday will stop short of harmonizing train brake rules, a government official said.
Instead, each country has agreed to set train braking standards through their respective operating rules "because that is where they are best addressed," the Canadian government official said, speaking on condition of anonymity because the deal isn't yet public.
Agreeing to set braking standards for trains nationally, and not cooperatively, allows the countries to begin building tank cars to a tougher standard while finalizing braking rules for entire trains, the official said. Building them more quickly will let the countries meet phase-out targets for older tank-cars.
It also means while tank cars will be built under stricter safety requirements, trains that carry oil across the border will continue to face dual standards for brakes under rules set by each country. What those individual standards will be is still unclear.
U.S. Secretary of Transportation Anthony Foxx and Canadian Transport Minister Lisa Raitt will make a joint announcement at 10:30 a.m. Friday in Washington, advisories issued Thursday said. Foxx and Raitt will "announce the next generation of stronger, safer rail tank cars for the transportation of flammable liquids in North America," the advisories said.
Raitt has said previously the countries were at odds over braking standards. Canada had been considering electronically controlled pneumatic brakes as part of a joint standard, but Raitt has said the country will instead consider simply requiring ECP brakes through its regulations for trains, rather than through joint standards for tank cars.
Lac-Megantic
The countries developed the regulations amid a rise in shipments of oil by rail, and after a series of fiery derailments -- including the one in Lac-Megantic, Quebec that killed 47 people in July 2013. In that case, the parked train's brakes weren't sufficient, leading it to run downhill into the town, derail and explode.
The number of tanker cars carrying crude and other fuel oils -- and the volume they carried -- almost tripled in Canada between 2011 and 2014, as oil-sands production boomed, pipelines faced bottlenecks and new pipeline projects met with opposition and delays.
Canada announced its own tougher tank-car standards in early March, requiring thicker steel, new safety valves and other measures. At the time, Canada was still working on joint standards with the U.S. but Raitt said they were 95 percent complete.
Earlier this month, the U.S. Department of Transportation announced a speed limit of 40 miles an hour for trains in densely populated areas.
Ryan Daniels, a spokesman for the U.S. Department of Transportation, and Ashley Kelahear, a spokeswoman for Raitt, declined to detail the agreement ahead of Friday's announcement.
Before it's here, it's on the Bloomberg Terminal.
LEARN MORE