Treasury Moves Cause More Pain for Gross's Volatility Play
Alexandra Scaggs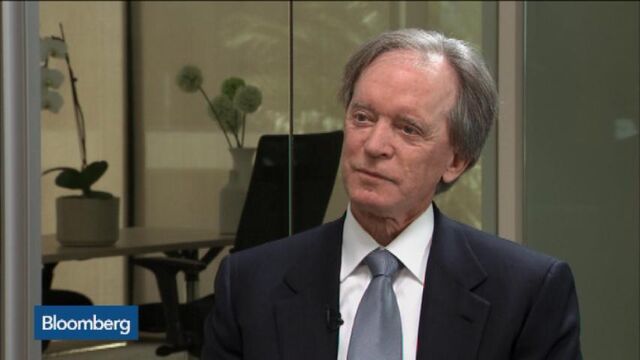 Investors who thought Treasury trading was becoming a snooze -- including Bill Gross -- may be jarred into an unpleasant reality, if chart readers' crystal balls are correct.
When the U.S. 10-year note yield pushed above 2.1 percent on Thursday, the highest level in seven weeks, it breached a couple of key technical levels that signal it may keep rising. That means prices would plummet.
"This could cause a further selloff," said Thomas di Galoma, head of fixed-income rates and credit at ED&F Man Capital Markets in New York. "We could go down substantially."
Until this week, the yield on the 10-year note had hovered in a range between 1.8 percent and 2 percent for more than a month. Di Galoma said his next target is the 200-day moving average of 2.2 percent.
That's bad news for investors like Gross, manager of the $1.5 billion Janus Global Unconstrained Bond Fund, who were making trades known as "selling volatility," or betting there wouldn't be big swings in the Treasury market.
The charts say those investors are at risk of getting burned. Treasury yields are on track for the biggest weekly gain since March as a selloff in Europe weighs down prices. The 10-year note yield rose above 2 percent for the first time since March 17, the day before Federal Reserve officials cut their predicted pace of rate increases, and kept climbing.
Moving Averages
The price of futures on 10-year U.S. government debt fell on Thursday below their 100-day moving average, a measure of momentum that's closely watched by technical analysts. The price also fell below 128-07, a level close to both the 55- and 89-day moving averages.
The last time Treasury futures closed below 128-07, yields were in the midst of a steep rally off their January lows. That gain brought the 10-year yield as high as 2.25 percent, after a blowout report on February jobs creation.
The recent move in Treasuries was sparked by a steep drop in European government bonds, as opposed to a sharp turn for the better in U.S. economic growth. That could lead to a snap-back once selling pressure in Europe recedes, di Galoma said.
"Most of what we're seeing seems to be coming from overseas," he said. "It's going to be temporary."
Even so, it's getting tougher to trade bonds, as Janus's Gross pointed out on Twitter yesterday. So markets are being driven more and more by technical levels and fast-trading global investors adjusting their positions.
"There's no real fundamental things" driving moves, di Galoma said. "Two-thirds is just positioning."
Before it's here, it's on the Bloomberg Terminal.
LEARN MORE