Taiwan GDP Growth Accelerates on Consumption, Technology Exports
Justina Lee and Chinmei Sung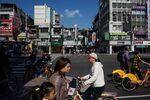 Taiwan's economic growth accelerated last quarter as consumption improved along with electronics exports amid stronger global demand for such products.
Gross domestic product rose 3.46 percent from a year earlier in the three months through March, according to preliminary data released by the statistics bureau on Thursday. It compares with the 3.5 percent median estimate in a Bloomberg survey of analysts and 3.35 percent in the prior period.
While exports shrank during the period as cheaper oil curbed related shipments such as petrochemicals, Taiwan's tech sector thrived as new products including the iPhone 6 buoyed global demand. With unemployment near a 14-year low and wages picking up, private consumption also gained.
"As long as manufacturing keeps improving, consumer confidence will improve as well simply because of the flow through of higher wages and lower unemployment," Katrina Ell, an economist at Moody's Analytics in Sydney, said before the release.
Taiwan's economy will expand 3.55 percent this year, exceeding 3.51 percent in 2014, as well as growth rates for regional economies like South Korea, Hong Kong and Singapore, Bloomberg surveys showed. Taiwan's strength has sent its benchmark equity index to 10,000 for the first time in 15 years this week, with inflows making the local dollar Asia's top performer in 2015.
While central banks around the world have eased policy this year amid falling consumer prices, Taiwan has held its policy rate at 1.875 percent since 2011.
Before it's here, it's on the Bloomberg Terminal.
LEARN MORE