STMicro Forecasts Fall Short Amid PC Slump; Shares Slide
Marie Mawad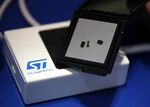 STMicroelectronics NV forecast revenue and profit margins that may miss analysts' estimates after a slowdown in demand for personal computers pushed Europe's largest chipmaker back to a quarterly loss. The shares fell the most in three years.
Sales will climb about 3.5 percent in the current period from the first quarter, the Geneva-based company said Thursday. That's equivalent to $1.76 billion, compared with analysts' average estimate of $1.84 billion compiled by Bloomberg. The gross margin will be about 33.8 percent, trailing analysts' projection for 35.1 percent.
The stock dropped as much as 12 percent and traded 11 percent lower at 7.27 euros as of 11:24 a.m. in Paris. A first-quarter net loss of $22 million ended a positive streak for STMicro, after extensive restructuring helped the company return to profit last year.
"The correction that we saw in the first quarter was concentrated in greater China, very much at the end of the quarter, and on the PC part of the business," Chief Executive Officer Carlo Bozotti said on a conference call. "It's premature to draw conclusions from this."
Bozotti said demand had improved in April based on orders compared with the month before, though it's unclear whether that trend will persist in the coming weeks.
PCs Shunned
Worldwide PC shipments decreased about 5 percent last quarter from the year earlier and were down 14 percent from the final quarter of 2014, data by Gartner Inc. showed. PC-chip sales are declining as more consumers rely on tablets and smartphones to get online, prompting industry giant Intel Corp. to seek growth instead from segments such as data centers.
STMicro is also seeking to sell more lucrative chips to new customers like makers of cars, wearable electronics and industrial machinery. Those efforts have payed off, though STMicro has said chip demand will be critical in determining how fast the company can reach its long-term financial targets.
Currency fluctuations will also have a material impact on profit in the coming months as hedging contracts expire and STMicro reaps the benefits of a weaker euro, Chief Financial Officer Carlo Ferro said on the call. A weaker euro relative to the dollar means lower production costs for the chipmaker with factories from Grenoble in France to Sicily.
The gross margin could gain an extra 2.5 percentage points by year-end if the euro stays near its current level, Ferro said. Meanwhile, in the first quarter, the weaker euro had a negative accounting effect on revenue in the region because the chipmaker reports in U.S. dollars.
Before it's here, it's on the Bloomberg Terminal.
LEARN MORE