Spoofing Elephant in Room Goes Unmentioned During CME Call
Matthew Leising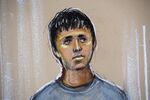 For 10 days, it's been the top story in the world for the futures market. You'd never know it from Thursday's quarterly earnings call for CME Group Inc., operator of the market where it happened.
The April 21 arrest of U.K. trader Navinder Singh Sarao for allegedly manipulating the market for five years by spoofing, or placing then canceling orders to move prices, was never brought up by analysts questioning CME Chief Executive Officer Phupinder Gill and Chief Financial Officer John Pietrowicz.
"It is surprising nobody did ask about that because that's all everyone's talking about and CME has come under criticism for it," said Craig Pirrong, a finance professor at the University of Houston. Pirrong said his own analysis of the charges against Sarao indicates the claims against the trader are overstated, but the incident "raises issues about CME's compliance program given that the conduct supposedly occurred over such a long period of time."
There are multiple complaints by traders and investors about spoofing on the CME every week, according to its main regulator. The most explosive claim U.S. prosecutors made against Sarao is that his trading contributed to the flash crash on May 6, 2010, when U.S. stocks briefly lost almost $1 trillion in value. CME said last week that its own investigation suggested that its products didn't cause the plunge.
U.S. officials say Sarao broke the law while trading CME's futures on the Standard & Poor's 500 Index.
'Young Techie'
"Mr. Sarao's case is certainly being watched by futures industry participants and the institutional investor community," said Brad Hintz, an adjunct professor at New York University's Stern School of Business who covered CME when he was an analyst at Sanford C. Bernstein & Co. in New York. "Market participants are concerned that the government case is based in part on the argument that the market is so unstable that one young techie and a $2,000 PC can cause global disruption."
Michael Shore, a CME spokesman, declined to comment on Pirrong's remarks concerning the exchange's compliance program.
Analysts on the CME call asked about the company's energy contracts, competition with Nasdaq OMX Group Inc., a tussle between U.S. and European regulators and how the exchange safeguards its clearinghouse.
"The sell-side analysts are most concerned about the macro environment," Hintz said. That includes how investors are viewing any movement by the Federal Reserve in raising interest rates, he said.
CME reported a 24 percent increase in first-quarter net income on Thursday. Adjusted per-share earnings amounted to 98 cents, beating the average analyst estimate of 95 cents, according to data compiled by Bloomberg. Average volume was 15 million contracts a day in the quarter, a 10 percent increase from a year earlier, CME said.
Before it's here, it's on the Bloomberg Terminal.
LEARN MORE