Scene Last Night: Blankfein, Michael Keaton, McGuire for Wynton
Amanda Gordon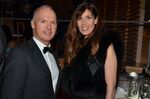 The night the world learned Dante de Blasio and his famous afro are headed to Yale, Harvard College classmates Lloyd Blankfein and Dick Cashin got together at Jazz at Lincoln Center and reminisced about -- what else? -- their hair. "Mine was wavy, and it waved goodbye," Blankfein said.
Cashin, on the board of JALC, asks Blankfein to the gala every year. It's an easy invite to accept, offering great music and a relaxed speech-free dinner. Plus it's convenient, located a block from Blankfein's home on Central Park West (now that's a dorm upgrade).
The concert Wednesday night in Frederick P. Rose Hall (named after a Yalie) celebrated Duke Ellington with Tony Bennett and Pakistani flutist Baqir Abbas among the guest performers. The Ashley Schiff Ramos Community Development in Jazz Award (named after another Yalie) was presented to Wendy Oxenhorn, who aids elderly and infirm jazz musicians as executive director of the Jazz Foundation of America and plays blues harmonica.
Had Mayor Bill de Blasio's son attended, he would have received "Boola Boolas" on his school selection from Yale alumni David Schiff (who has connections at the Wildlife Conservation Society) and Jill Kargman, who's about to become a TV star in the Bravo scripted show "Odd Mom Out."
Dinner took place in the Appel Room, named after former Neuberger Berman partner Bob Appel, a Cornellian who was honored with an award named after the late Ed Bradley, the "60 Minutes" journalist and jazz advocate. The event raised $3.9 million, about 87 annual Yale tuition payments.
Youthful Enthusiasm
The most fun was getting schooled in Ellington and the world by actor Michael Keaton, who hosted the concert.
Acknowledging a man in the front row bouncing his six-year-old on his lap, Keaton said, "Just by osmosis, already this kid's taste has jumped incrementally. Here's the bad news. In a couple of years his buddies are going to play some Justin Bieber for him, and he's going to involuntarily vomit all over them."
Later, Keaton said he didn't start listening to jazz until his 20s -- Thelonious Monk, to be specific -- "because my old manager was Monk's manager," he said. "The first thing he ever turned me on to was 'Tea for Two.' I'm not really into the deep avant-garde stuff so much. I kind of like bebop."
Ray McGuire gave Pastor Shirley Caesar a standing ovation for "Come Sunday," and declared her "royalty" before sitting down for supper with Keaton, Valentino Carlotti and founding artistic director of JALC, Wynton Marsalis.
McGuire, Citigroup's investment-banking chief, said he'd miss seeing Michelle Obama cut the ribbon for the Whitney Museum of American Art's new building Thursday because it's the last day of school for his two-year-old, Leo.
Two other Whitney board members, brothers Thomas H. Lee and Jonathan O. Lee, sat a few tables down with Lee Equity Partners principals Achi Yaffe, an expert in Papa Murphy's pizza, and Collins Ward, who knows a thing or two about fashion and is working on Jason Wu's business. Also in the room: Lyor Cohen, Lise and J. Michael Evans, Marshall Sonenshine, Diana and Joe DiMenna, and Jody and John Arnhold.
Before it's here, it's on the Bloomberg Terminal.
LEARN MORE