Lost Decades Near End With Japan Stock Values Closing In
Anna Kitanaka and Toshiro Hasegawa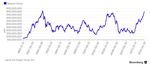 The wait is almost over for Japanese investors who've spent 25 years marking time as the stock market worked its way back from the crash of 1989.
It's not that the Topix index or Nikkei 225 Stock Average are back at their highs -- they're at least 44 percent below their bubble-era peaks. Going by market capitalization, though, the value of shares on the Tokyo Stock Exchange is inching toward an all-time high and sat this week at 1 percent below the record 611 trillion yen.
The increase shows shifting preferences in corporate Japan to equity capital from bank financing, with the number of public companies surging to 3,479 from 1,597 at the previous peak. Japan has more listed firms relative to the size of its economy than the U.S. or Germany, providing a broader base for gains as shares climb under Prime Minister Shinzo Abe.
"Japanese companies value the stock market more these days," said Sadakazu Osaki, head of research at Nomura Research Institute Ltd. in Tokyo. "It also shows firms are recovering."
Japan Inc.'s growing reliance on the equity market raises the stakes as Prime Minister Shinzo Abe seeks to increase the flow of capital from investors to well-run businesses. His policies range from a government-backed stock index that picks businesses with high profitability to stewardship rules for institutional investors. In June, the nation starts a complementary code for companies.
Policy Tool
"The equity market is crucial for Japan," said David Welch, head of equity sales trading at Reorient Group in Hong Kong. "Abe wants a strong market. It's a policy tool to force changes in the boardroom and across society."
Some of the initial public offerings since the bubble era went on to become Japan's most valuable stocks, including SoftBank Corp., NTT Docomo Inc., and KDDI Corp., wireless operators that rank fourth, fifth and seventh among the biggest firms by market value. Japan Tobacco Inc., now the sixth-largest company, went public in 1994. Others include Fast Retailing Co., the Japan Railways companies, Rakuten Inc., and more recently, Suntory Beverage & Food Ltd.
Japan has about 800 listed firms for every $1 trillion of nominal gross domestic product, Goldman Sachs Group Inc. strategists led by Kathy Matsui wrote in a report this month. That compares with about 600 for the U.S. and slightly more than 200 for Germany, they wrote.
Stock Shift
While larger Japanese companies were using stock-linked financing in 1989, many smaller firms still relied on loans, according to Hideaki Miyajima, a professor of corporate finance and Japan's economic history at Waseda University in Tokyo. As banks created a bubble in property lending that eventually forced them to tighten credit, smaller companies turned to the stock market for financing, he said.
Even as Japan's market value nears its all-time high, its share of the global equity pie has fallen. Japan's weighting in global equities has dropped from about 40 percent at its bubble-era peak to less than 10 percent today, according to SMBC Nikko Securities Inc.
"While Japan was dragging its feet, share prices in other countries, including the U.S., started to rise," said Keiichi Ito, chief quants analyst at SMBC Nikko Securities. "It's like Japan took a toilet break during a marathon and came back to find everyone had run ahead."
The gap's closing as the Topix climbs 90 percent under Abe, with the index rising on April 28 to the highest since 2007. Four of the Topix's 33 industry groups have reclaimed their levels from the 1989 peak -- drugmakers, car manufacturers, precision-instrument producers and tire companies.
Bigger Profits
Honda Motor Co. posted an advance of more than 342 percent, the data show, while Toyota Motor Corp., the largest company, has surged 286 percent. Toyota, which reports earnings on May 8, is poised to post a second-straight record annual profit.
"Many Japanese companies have become better able to make money globally, and profits are growing," said Tomomi Yamashita, who helps oversee the equivalent of $6.3 billion at Shinkin Asset Management Co. in Tokyo. "The market cap is rising because companies are getting more profitable. Stock prices and valuations are much more reasonable now than they were in the bubble."
Nomura's Osaki says the market's value will probably pass its all-time high when Japan Post Holdings Co. and its banking and insurance units list shares. The three IPOs are expected to happen as early as September. The sales will raise as much as 2 trillion yen, Taizo Nishimuro, chief executive officer of the holding company, has said.
While that will be a nice milestone, it's still too early to celebrate, says SMBC Nikko's Ito.
"Japan's shares have recovered somewhat, but a lot more must be done," he said. Fundamentals "need to increase along with value or it will be hard to regain the glory days."
Before it's here, it's on the Bloomberg Terminal.
LEARN MORE