Japan's Production Drops Less Than Forecast Before BOJ Meets
Toru Fujioka and Keiko Ujikane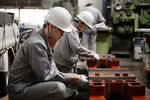 Japan's industrial production fell less than forecast in March, signaling some resilience in the world's third-biggest economy before the central bank meets to set monetary policy.
Output declined 0.3 percent from February, when it dropped 3.1 percent, the trade ministry said in Tokyo on Thursday. The median estimate of 30 economists surveyed by Bloomberg was for a decline of 2.3 percent.
Bank of Japan chief Haruhiko Kuroda is counting on stronger growth to reduce slack in the economy and fuel inflation, which has stalled with a drop in oil prices. While 32 of 34 economists surveyed by Bloomberg forecast the BOJ will refrain from adding stimulus Thursday, a majority sees a boost by the end of October as Kuroda chases a 2 percent inflation target.
"The production report provides relief for the Bank of Japan," said Takeshi Minami, an economist at Norinchukin Research Institute. "But production is still falling while inventories are rising, indicating manufacturing isn't so strong. That reflects a weak pickup in the U.S., China and other countries."
Retail Sales
The yen was little changed a 118.97 per dollar at 9:45 a.m. in Tokyo. The Topix index of shares declined 1.4 percent after the U.S. Federal Reserve kept interest rates on hold as data showed the world's biggest economy barely grew last quarter.
The BOJ's policy board will present its latest outlook for economic growth and inflation later Thursday.
The smaller-than-expected drop in production suggests that economic growth was solid last quarter, said Marcel Thieliant, an economist at Capital Economics. While the data may provide an excuse for the BOJ to leave its policy unchanged, he said he is sticking to his forecast for an expansion in stimulus.
Thieliant is one of the two economists in the Bloomberg survey who predict the BOJ will increase the pace of its asset purchases at Thursday's meeting.
The production data came after retail sales figures this week pointed to continued weakness in consumer spending, which was hurt by a sales-tax increase last year. Sales declined 1.9 percent in March from the previous month, compared with a forecast gain of 0.6 percent in a Bloomberg survey of economists.
Inventories rose to the highest since February 2009, indicating that companies aren't cutting production fast enough to keep up with slowing demand.
Kuroda has repeatedly said the central bank will continue to apply stimulus until consumer price gains are stable around its 2 percent target, and would adjust policy if necessary to do so.
The central bank's main gauge showed inflation slowing to 0 percent in February, weighed down by oil price declines of more than 40 percent in the past year.
Before it's here, it's on the Bloomberg Terminal.
LEARN MORE