Italian Unemployment Rises in Setback for Renzi's Plans
Lorenzo Totaro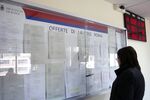 Italy's jobless rate unexpectedly rose in March as employers delayed hiring until there are clear indications the nation is emerging from the record-long recession that's thwarted Prime Minister Matteo Renzi.
Unemployment increased to 13 percent from 12.7 percent in February, statistics agency Istat said in a preliminary report in Rome on Thursday. The median estimate in a Bloomberg survey of 10 analysts called for a decline to 12.6 percent. The March unemployment rate for the 19-nation euro area will be released at 11 a.m. in Luxembourg.
Joblessness in the euro area's third-largest economy remained above 12.5 percent for a ninth straight month in March. It was more than twice Germany's jobless rate, which stood at 6.4 percent this month, Federal Labor Agency in Nuremberg said on Thursday. Renzi's changes to Italy's labor code showed early results as the open-ended contracts taking effect in the first quarter rose, the government said.
"The outlook is mixed, with firms encouraged to keep tight workforces amid squeezed profits, disrupted credit markets, and lower than normal output," said Raj Badiani, an economist at IHS Global Insight.
Finance Minister Pier Carlo Padoan has said that the economy will expand in 2015, putting an end to the slump. Consumers were more cautious about the outlook for the economy, with households surveyed by Istat for its monthly report on confidence saying in April that they were less optimistic about a recovery in coming months.
Retail sales declined 0.2 percent in February after rising at the same pace in the previous month, Istat said in a report last week.
The government will negotiate with French retailer Groupe Auchan SA after its announcement of plans for as many as 1,500 job losses across Italy, Labor Minister Giuliano Poletti was cited by Ansa news agency as saying on Tuesday.
Italy's youth unemployment rose to 43.1 percent from 42.8 percent in February, Istat said in its report on Thursday.
"The unemployment data are slightly worse than expected," said Fabio Fois, European economist at Barclays Plc in Milan. "Over time, the recently approved labor market reform will help support the employment outlook and reduce fragmentation."
Before it's here, it's on the Bloomberg Terminal.
LEARN MORE