India Iron-Ore Tax Cut Is Too Little, Too Late, Mines Lobby Says
Abhishek Shanker and Rajesh Kumar Singh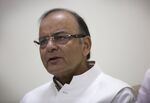 India's export-tax cut for lower-grade iron ore will do little to revive shipments as miners remain burdened by steep local levies and low prices, an industry lobby group said.
Producers are saddled with charges that reduce sales by more than half, R. K. Sharma, secretary-general of the Federation of Indian Mineral Industries, said in an interview on Friday. A court-ordered cap on production also threatens to drive up operating costs, he said.
India will cut the export duty on lower-grade iron ore to 10 percent from 30 percent, Finance Minister Arun Jaitley told lawmakers in New Delhi on Thursday. The move is aimed at boosting shipments from the western state of Goa where mining still hasn't resumed a year after the supreme court lifted a ban.
"It means nothing," Sharma said. "Costs remain too high for the current prices."
The price of spot iron ore with 62 percent metal content, a benchmark grade delivered at China's Qingdao port, has dropped 47 percent in the past year amid a global oversupply.
In August India increased the royalty miners pay to the regional governments to 15 percent of the sales value from 10 percent. Goan miners also pay 10 percent of sales to the state's development fund.
Shipments from other parts of the country are even more expensive because of high costs for rail freight.
Reviving Goa
The Indian government is seeking to return prosperity to Goa, where iron-ore mining was previously the biggest industry after tourism. Producing and exporting the ore, essential to making steel, accounted for 25 percent of the state's revenue until the mines went quiet in September 2012, prompting about 100,000 job losses, according to the Goa government.
The tax cut is "a shot in the arm for the mining industry," said A.N. Joshi, vice president for iron ore at Sesa Sterlite Ltd., formerly the largest producer in Goa. "This will certainly allow low-cost producers to start mining as soon as they have all the clearances from the government."
The halt of the mines came after a court ruled that rampant illegal mining had siphoned off hundreds of billions of rupees and damaged the environment. The loss of customers that followed the shutdowns, the collapse of infrastructure and the expiry of licenses stand in the way of a swift resumption of operations.
Miners in Goa exported most of India's lower-grade iron ore before the ban. In April last year, the court allowed mining to restart with an upper production limit of 20 million metric tons a year. Goa's miners have yet to receive approvals from the regional and federal governments to resume operations.
Before it's here, it's on the Bloomberg Terminal.
LEARN MORE