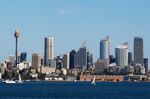 China's infatuation with Australian real estate spurred its rise to be the biggest foreign investor Down Under, displacing the U.S.
Chinese buyers were approved to buy A$12.4 billion ($9.9 billion) of Australian real estate in 2013-14, the Foreign Investment Review Board said in its annual report, without differentiating between commercial and residential property. China's total approved investment in Australia was A$27.7 billion over the period, compared with the U.S.'s A$17.5 billion.

Speculation has mounted that a corruption crackdown by the government in Beijing has driven investors to pull money out of China and triggered a real estate buying spree in countries like Australia. 
Meanwhile, Australia's government is going after illegal home-buying by foreigners. In March it ordered a company owned by China's Evergrande Real Estate Group Ltd. to sell a A$39 million Sydney mansion. The forced sale of the harborside property was the first strike by Prime Minister Tony Abbott's government, which in February pledged to crack down on illegal purchases, amid concern overseas buyers are pricing Australians out of the property market.
Sydney property prices have climbed almost 40 percent from a 2012 trough, forcing regulators to call on banks to strengthen lending standards and warn of the potential for values to drop.
For more on the global economy, check out Benchmark:
Before it's here, it's on the Bloomberg Terminal.
LEARN MORE