Can Mattel Sell Girls on Superhero Action Figures?
Time Warner and Mattel want young females to be super, too
By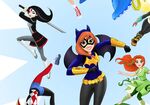 Barbie is a lovely girl, and she's more accomplished every day. But she's clueless when it comes to stopping a criminal mastermind. No worries. Toymakers and entertainment companies are looking to fill that deficit by molding a tougher cast of characters for young females: teenage superheroines. Time Warner's DC Entertainment and Warner Bros. studio have teamed up with Mattel and Lego to introduce DC Super Hero Girls, adolescent versions of venerable comic book characters such as Wonder Woman and Poison Ivy, who will land on cartoons and TV shows, in toy stores, and on digital devices this fall. Publisher Random House also is planning a series of books for next spring.
Developed for girls from 6 to 12 years old, the product line is essentially bildungsroman via Batgirl. "Each character has her own story line that explores what teen life is like as a Super Hero, including discovering her unique abilities," according to a Warner Bros. announcement. Time Warner, Mattel, and Lego declined to discuss the Super Hero Girls endeavor.

Los Angeles-based actor Ashley Eckstein started doing audio recordings for the animated series a few weeks ago. She's also hoping her apparel company, Her Universe, can secure a license to sell clothes based on the women's characters, as it has done with Walt Disney's Star Wars franchise since 2009. "When I started the business, I felt like they couldn't give away the license" for women's apparel, she says. "But female fans have always been there; it's just that now they're being catered to."
Warner Bros. plans to release a feature version of Wonder Woman in the summer of 2017. It will be the first time the character gets the blockbuster treatment, though the studio has made 14 Superman and Batman films since the late 1970s.
Piper Jaffray senior analyst Stephanie Wissink says Time Warner and Mattel are responding to a backlash against Barbie and the popularity of a growing tribe of strong, young female protagonists, such as Hermione Granger in the Harry Potter series and Katniss Everdeen in The Hunger Games. "There's a woman running for president now," Wissink says. "The gender stereotypes are starting to break down at very young ages."
Comic artist Jamal Igle helped win a slew of female readers when he took over DC Comics' Supergirl in 2008. His strategic coup? Making the character's halter top a little longer and turning her tiny skirt into a skort, or skirtlike pair of shorts. "My mother thought the former character looked like a hooker," he says, "and my mother is not a prude." Although some fans cried foul over the less-revealing costume, Igle says the spike in sales emboldened the industry to tone down the overt sexualization of some female characters and portray them as more capable. "They were no longer tied up waiting to be rescued in every episode," he says.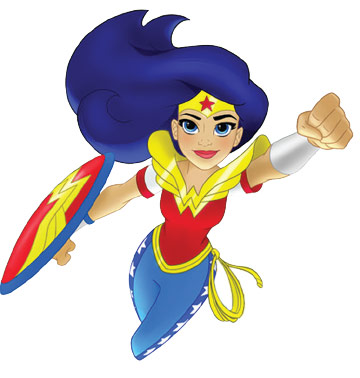 Still, DC Comics had little success selling those characters to merchandisers and movie studios, Igle says. Instead, the action has been on mostly female fashion dolls, on which U.S. consumers spent $2.3 billion last year, says the Toy Industry Association. That compares with $1.3 billion in mostly male action-figure purchases. At the end of 2015, Mattel's license for Frozen's Queen Elsa and her Arendelle crew flips to Hasbro. Adolescent superheroines may be a way for Mattel to replace that business, analysts say.
Marty Brochstein, senior vice president at the Licensing Industry Merchandisers' Association, says action figures marketed to young girls represent a white space in the business of character-linked merchandise. The Time Warner push could change that. "Given the licensees involved in this," he says, "there's much more to it than 'Let's do some pink stuff and see if it flies.' "
The bottom line: A DC Comics push to showcase young superheroines could attract more girls to cartoons and action toys.
Before it's here, it's on the Bloomberg Terminal.
LEARN MORE