Burundi Protests Threaten Stability in Region Plagued by Wars
Desire Nimubona and David Malingha Doya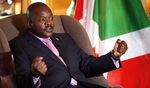 Protests in Burundi against President Pierre Nkurunziza's plan to seek a third term in office threatens stability in the region as thousands of people flee the violence.
Clashes between police and demonstrators erupted in the capital, Bujumbura, on April 26, the day after the ruling party nominated Nkurunziza as its candidate for June elections. At least five civilians and two police officers have been killed and almost 25,000 people have fled to neighboring Rwanda and Democratic Republic of Congo. Most shops and schools in the city remain closed, the United Nations said on Wednesday.
The unrest is raising fears of a return to conflict if rebel groups abandon a 2005 peace accord that ended a 12-year civil war, during which 300,000 people were killed. It also has the potential to destabilize the Great Lakes region, particularly Congo, which is the world's biggest source of cobalt and Africa's top copper producer.
"Competing former rebel factions may see his declaration as grounds to abandon the peace process and return to armed conflict as the only way of seizing power," Chris McKeon, a researcher at Verisk Maplecroft, a Bath, U.K.-based global risk adviser, said in a report. "Renewed unrest in the country could easily plunge the rest of the Great Lakes region into conflict."
About 100 people were arrested in protests on Thursday, Pierre Claver Mbonimpa, president of the Burundi Human Rights and Prisoners Association, said by phone. Among those killed in the riots this week was a child between the age of 14 and 15 years, he said.
U.S. Warnings
The U.S. has dispatched a senior diplomat, Tom Malinowski, the assistant secretary of state for democracy, human rights and labor, to Burundi. The U.S. embassy in Bujumbura said in a statement that it sees a country "seized by fear and at severe risk of deadly violence."
Opposition groups say Nkurunziza's candidacy for the June 26 election violates peace agreements that stipulated a two-term presidential limit.
During Burundi's civil war, rebel groups operated from bases in Congo's South Kivu province, according to McKeon.
"If large numbers of former rebels reject the peace process, history suggests that South Kivu, a major mining region, could be flooded with armed groups," he said. "Congo's notoriously weak security forces enable such groups to operate almost at will."
The government in Burundi has restricted live broadcasts of the protests on at least three radio stations, while one has been shut down, according to New York-based Human Rights Watch. Access to some social networking services has been blocked by authorities, according to the UN.
Congo Protests
Burundi, which also shares a border with Tanzania, is East Africa's smallest economy with a gross domestic product of about $2.5 billion. Agriculture, mainly coffee and tea production, accounts for more than a third of the economy's output.
The protests follow similar ones in Congo earlier this year, when lawmakers sought to change electoral laws that would have delayed elections and extended President Joseph Kabila's 14-year rule. Nationwide demonstrations in Burkina Faso against plans by President Blaise Compaore to extend his 27 years in power led to him fleeing the country in October.
The UN and rights groups such as Amnesty International have warned in the past year of an increase in politically motivated violence in Burundi. A July report by London-based Amnesty said that members of the Imbonerakure, the youth wing of the ruling CNDD-FDD party, intimidated and attacked political opponents with impunity.
"All signs are worrying in the extreme and we see a real risk that war could break out again," Francois Conradie, a political analyst at NKC Independent Economists in South Africa, said in an e-mailed note to clients. "Nkurunziza is clearly betting that he will be able to control the country using the Imbonerakure and propaganda in rural areas, and sheer force in Bujumbura."
Nkurunziza's bid to stay in office has divided his party and lost him support with some prominent military and intelligence officers, who previously played key roles in keeping him in power, Conradie said. Ruling party members and governors who have opposed a third term have been dismissed over the past month.
Before it's here, it's on the Bloomberg Terminal.
LEARN MORE