Baby Hedge Fund Managers Show Their Stuff
Upstarts steal the show at the Sohn Investment Conference
By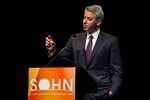 In the summer of 1967, at the peak of the Monkees' popularity, the thousands of fans filling stadiums for their live tour had the option of arriving early to catch an obscure opening act. It was a guitarist named Jimi Hendrix, and he was weeks away from releasing one of the best rock albums of all time. With the five money managers kicking off the 20th annual Sohn Investment Conference on May 4, the principle is largely the same: Always give the warm-up gigs a chance, since they just might ultimately overshadow the main event.
The Sohn conference may be the biggest date on the hedge fund world's calendar—a benefit in New York for pediatric cancer research at which billionaire fund managers present investment ideas to a crowd of 3,000 peers, clients, and journalists. (The event this year is produced in partnership with Bloomberg LP, which owns Bloomberg Businessweek.) Tickets cost $5,000 and come with the chance to hear elite investors like Bill Ackman, David Einhorn, and Paul Tudor Jones talk about their stock bets before regular investors hear them. Last year, for the first time, conference organizers added to the lineup a morning slate of speakers they dubbed Next Wave Sohn—five managers with lower profiles and fewer assets under management than the A list and, theoretically, fresher perspectives on the markets. Each speaker had 15 minutes to present a distinct investment idea that audience members could imitate—typically, a bet on or against a stock.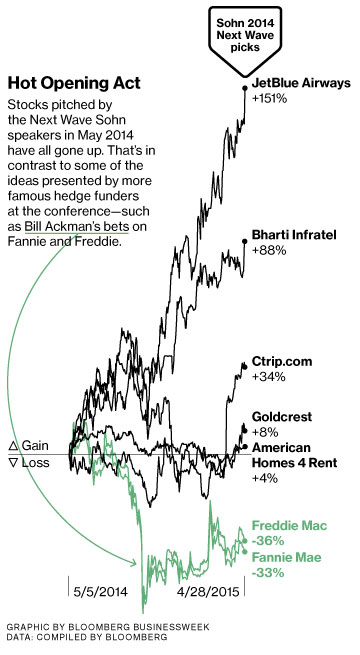 As with Hendrix in 1967, the newcomers fared better than the incumbents. Not that that's hard to do: As a group, the Sohn conference's headline presenters haven't distinguished themselves in recent years. In 2013, the Wall Street Journal calculated, their pool of investment ideas went on to underperform the broader stock market by 19 percentage points. Their 2014 predictions were more of a coin toss. Zachary Schreiber of PointState Capital correctly called a plunge in oil prices; Ackman talked up Fannie Mae and Freddie Mac, only to see them fall 33 percent and 36 percent, respectively, over the next 12 months. The Next Wave speakers went five for five. Jason Karp, of Tourbillon Capital Partners, outlined a way to bet on Chinese tourism that has since gained 34 percent, and Will Snellings, founder of Marianas Fund, pitched JetBlue, which has returned 151 percent.
The quintet spoke to an audience of about 400 in 2014, according to David Z. Solomon, a managing director at Goldman Sachs Investment Partners who co-chairs the Next Wave Sohn event. This year organizers have reserved a space for the Next Wave that can accommodate about 1,000. (The main event is held on a separate stage at Lincoln Center.) Speakers must have launched their funds in the last five years, says Graham Duncan, the other co-chair and a co-founder of East Rock Capital; otherwise, there are no hard rules on eligibility. "We want to showcase investors that aren't yet running multibillion-dollar funds but are operating at a world-class level," says Duncan.
Ethan Devine, 37, a partner at Indus Capital, pitched a Japanese real estate idea in 2014. Any advice for the 2015 lineup? "Breathe," he says. "Standing on a stage that Klarman was ever anywhere near will give you the jitters." Seth Klarman is the founder of the $28.5 billion Baupost Group.
Dan Dreyfus, a 39-year-old portfolio manager at 3G Capital, will be on the Next Wave stage at the moment markets open on May 4 and claims not to be nervous. "It's more anticipation than pressure," he says. "This is what I do. I live and breathe stocks all the time. You could wake me up at 2 or 3 in the morning and ask me for a stock idea to present in front of a big group."
The bottom line: JetBlue, one investment suggested by a Next Wave speaker, has returned 151 percent since last year.
Before it's here, it's on the Bloomberg Terminal.
LEARN MORE