Airbus Continues Portfolio Overhaul With Plane Programs on Track
Andrea Rothman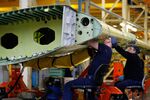 Airbus Group NV said it will push on with a portfolio overhaul, selling assets and further scaling back its stake in Dassault Aviation SA as it prepares to begin buying back shares later this year to support the stock.
The company, which has already reduced its stake in the French maker of combat and private aircraft to 24.6 percent, will probably continue divesting its holding next year, Chief Financial Officer Harald Wilhelm said on a conference call to discuss first-quarter earnings. Airbus is confident it can also push through other divestments this year, he said.
Airbus is seeking approval from shareholders to buy back stock, a use of resources that has become possible because the main aircraft programs including the long-range A350 and short-to medium range A320neo are on track, Wilhelm said.
Airbus reiterated its guidance for "higher revenues and a slight increase in Ebit before one-offs" this year, saying the company is in good shape, with plane programs running as expected and a target to break even on the A380 superjumbo this year on track. Cash management at the maker of airplanes, helicopters and military jets showed improvement, Airbus said.
"We had a good start into 2015, with a solid operational performance and improved cash generation, further supported by asset sales," Airbus Group Chief Executive Officer Tom Enders said in a statement. The company will "review capital allocation towards the end of the year," he said.
Structural Components
Airbus rose as much as 93 cents, or 1.5 percent, to 61.51 euros in Paris, and traded at 60.25 euros as of 9:41 a.m. The stock has gained 45 percent this year, after losing 26 percent in 2014, its worst annual return since 2008.
The company will seek approval at its May 27 annual meeting to buy back as much as 10 percent of its shares. Airbus last year announced plans to begin selling assets it considers non-core, particularly within its defense unit. German supplier PFW Aerospace AG, a maker of structural components in which Airbus owns a stake, is among assets on the block, Wilhelm said today.
Earnings before interest, tax and one-time items in the first quarter fell to 651 million euros ($722.8 million) from 700 million euros, beating an estimate of 602 million euros by analysts polled by Bloomberg. Net income rose to 792 million euros from 439 million euros, aided by the sale of shares in Dassault Aviation.
Airbus handed over a record 629 planes in 2014 and is aiming for slightly more this year. The Toulouse, France-based planemaker delivered one A350 in the quarter and is targeting a production ramp-up to 10 a month by 2018. The manufacturer also expects to break even in 2015 on production of A380 superjumbos.
Dassault Gain
Airbus in the quarter booked a gain of 697 million euros from the sale of a 17.5 percent stake in Dassault.
"The result looked quite good for a quarter that wasn't supposed to be stellar," said Yan Derocles, an analyst at Paris-based Oddo Securities, who has a "buy" rating on the shares. "What struck me most was the excellent cash management."
Airbus said free cash flow before mergers and acquisitions improved significantly to an outflow of 1.14 billion euros compared with an outflow of 2.06 billion euros in the year-earlier quarter, reflecting the "continued focus on cash control." Proceeds of about 1.6 billion euros from the sale of the Dassault shares boosted total free cash flow to 452 million euros from the year-earlier outflow of 2.03 billion euros.
Group sales fell 3.9 percent to 12.1 billion euros in the quarter. The namesake aircraft operation contributes two-thirds of revenue of revenue at Airbus. Order intake was little changed at 21 billion euros from a year earlier.
Before it's here, it's on the Bloomberg Terminal.
LEARN MORE