A $15 Billion Cure Can't Fix Veterans' Care at U.S. Agency
Kathleen Miller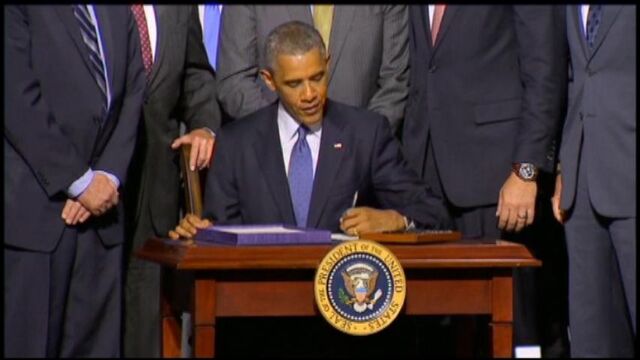 Leaders of the U.S. Department of Veterans Affairs asked Congress for more than $15 billion to end long wait times for medical care for tens of thousands of vets. They got the money, but little has changed.
The agency has been slow to spend the funds, and instead of speedier care for the former soldiers the holdups have persisted. The centerpiece of the legislation Congress passed last year -- a $10 billion program to allow veterans to seek care outside the VA system -- has been so underused that the agency wants to divert some of the money to other purposes.
That request is a "non-starter," said Representative Jeff Miller, chairman of the House Veterans Affairs Committee.
"I'm disappointed that VA has left the vast majority of this money, which department officials said was urgently needed, unspent," said Miller, a Florida Republican. "We're not seeing accountability proportionate to the enormous misconduct and breach of trust that occurred."
The scandal engulfed the agency a year ago this month amid allegations that officials at VA hospitals and clinics across the country had falsified records to cover up delays. Reports that veterans had died while awaiting treatment in the Phoenix VA system sparked outrage among lawmakers, forcing Department Secretary Eric Shinseki to resign.
A White House report said the system was hobbled by management with little accountability and a "corrosive culture."
Confusing Rules
Lawmakers and veterans' advocates say the VA still suffers from a lack of accountability. Its problems implementing the alternative-care policy -- the agency is on track to spend as little as $1.1 billion of the $3.9 billion it once projected to use this year on the so-called "Choice program" -- stem from confusing rules and resistance to change among employees, they say.
While the VA has a new leader, former Procter & Gamble executive Robert McDonald, just one senior executive has been fired at the Phoenix VA, though Congress gave the agency new power to terminate high-level officials.
The U.S. House of Representatives adopted an amendment to a spending bill Wednesday that prohibits bonuses for senior VA executives. Lawmakers have criticized the agency for giving cash performance awards to executives who oversaw hospitals that have been investigated for keeping phony waiting list records.
Less Interest
VA officials acknowledge reluctance among some employees to send veterans outside the federally funded system for treatment, yet say they're working to resolve that.
Sloan Gibson, the deputy secretary, cited "lingering cultural issues" over the prospect of offering alternative care, at a Senate Veterans' Affairs Committee hearing last month.
Other officials of the agency, which serves 8.76 million veterans annually, say they never asked for the alternative-treatment program in the first place and that veterans have shown less interest in it than lawmakers anticipated.
"We did not propose the Choice program," James Tuchschmidt, the VA's acting principal deputy undersecretary for health, said in an interview. Instead, it was Congress that pushed for the change.
Too Close
One veteran who was interested is Bill Pittman, a former Vietnam combat field medic with two Purple Hearts and a medal for heroism. If anyone should know how to figure out complicated government rules it's him.
Pittman, 66, is a onetime director of veterans' services at the Department of Housing and Urban Development who worked for the federal government for more than 30 years. He said he'd hoped to take advantage of the Choice program to have back surgery at the University of Tennessee Medical Center near his home in the Knoxville area.
A VA outpatient clinic in Knoxville told him he wasn't eligible because he lived too close to the clinic to qualify for non-VA care.
"I asked if the Knoxville outpatient clinic was doing back surgery now," Pittman said. "They asked me to stop being facetious."
Instead, he was informed he'd have to travel to a VA hospital in Johnson City -- more than 100 miles away -- to get the surgery.
Better Off
Lawmakers led by Senator John McCain, an Arizona Republican, thought that veterans such as Pittman would be better off if they were able to go outside the VA system. McCain worked with some Democrats to pass legislation paying for the Choice program, as well as more doctors for the VA and infrastructure improvements.
Congress delivered the "Veterans Access, Choice and Accountability Act" to President Barack Obama, who signed it in August.
As of last week, only about 50,000 veterans had been authorized to receive non-VA care, though Tuchschmidt said the agency received "well over" 500,000 calls about the program.
Other metrics aren't much better.
In February, the VA was completing fewer appointments and taking more time to do them. The department had recorded 375,856 fewer appointments that month than it did in August, according to the latest data on the VA website.
In February, 2.85 percent of appointments took more than 30 days to complete, up from 2.43 percent last August.
Long Waits
Under the law, veterans are eligible to use the Choice program to get outside care if they live too far from the nearest VA facility or have waited too long for appointments.
The VA, under pressure, has already revised the policy once: Last month it said it would change a rule that required veterans to live at least 40 miles, as the crow flies, from the nearest department hospital or clinic to qualify for non-VA care.
Now, the 40-mile rule will refer to driving distance. Veterans had complained that in some areas a patient might live less than 40 miles from a facility yet still have to drive hours to get there because of the lack of direct roads.
That adjustment is expected to double the number of veterans eligible for the program, Tuchschmidt said. He also said the VA is spending much more on non-VA care than the figures show, though not all through the Choice program. It will spend more than $6.5 billion on medical treatment outside the agency this year, he said.
Still, access problems persist.
Turned Away
Jon Marks says he was turned away by the Choice program even though the facility near him wasn't accepting new patients.
The Army veteran from Marysville, Kansas, had a stroke 10 years ago and has been traveling as much as 100 miles to get routine care at a VA hospital in Topeka. The VA rejected his request to get alternative care closer to home, because there was a department clinic just 20 miles from his home.
When he called the clinic, he was told they're only open two days a week and weren't accepting new patients.
"I'm in limbo," Marks, 77, said in February.
Later, he said the VA approved his eligibility -- but not until his congressman, Tim Huelskamp of Kansas, intervened.
The VA said in February that it wanted to use some of the money allocated by Congress for other purposes. Lawmakers and veterans' groups have scoffed at that proposal.
"The American Legion wants to ensure that VA isn't trying to restrict the use of the Choice card specifically for the reason of saving that money to be used for other projects later," said Louis Celli, the Legion's director of Veterans Affairs.
New York VA
The system has some success stories.
Martina Parauda, the director of the New York VA hospital network that serves veterans in Manhattan, Brooklyn and Queens, said her facilities haven't tapped the program to send any veterans for non-VA care.
Instead, she said they've kept wait times low by asking VA physicians if they're willing to add an extra appointment to their schedule and by hiring part-time medical staff where needed. Less than 0.5 percent of the network's completed appointments took more than 30 days to complete in February, according to the most recent VA data available.
The biggest impediments to getting more veterans nationwide to use the Choice program are "education and communication," said Donna Hoffmeier, vice president for VA services at Health Net Inc., one of two federal contractors hired to administer the policy.
8.5 Million Cards
Health Net and TriWest Healthcare Alliance Corp. helped mail more than 8.5 million Choice cards to veterans. Both companies also field calls from vets trying to determine whether they're eligible for the program.
Although the contractors don't decide who qualifies, they rely on a VA database that lists those who may participate.
"The commitment by VA is there to do this," Hoffmeier said.
David McIntyre Jr., chief executive officer of TriWest and a former aide to McCain, said while there may be some VA employees who "would prefer to go down a different road," he sees a "commitment to get it right."
It's too early to tell if the legislation will help transform the agency, said Huelskamp, a member of the House veterans' panel.
"Even if they came to me with numbers and said, 'Hey this is a good snapshot of where we are, most of us on the committee wouldn't believe it," he said. "They have falsified too many numbers before, so I turn to the veterans to see what's been going on."